Join us for an Instagram tour for
Hardcover: 320 Pages
Publisher: Kensington (November 26, 2019)
Investigators Prudence MacKenzie and ex-Pinkerton Geoffrey Hunter discover all that glitters is not gold in the Gilded Age, whether on the island of Manhattan or an island off the coast of Georgia …
 
DEATH BRINGS A SHADOW
 
In spring 1889, Prudence and Geoffrey set sail from New York Harbor on a private yacht bound for Bradford Island, where her friend Eleanor Dickson is to be wed. The Sea Islands along the Georgia coast serve as a winter playground for the likes of the Carnegies, Rockefellers, Vanderbilts, and Dicksons. Despite her Yankee pedigree, Eleanor is marrying a Southern gentleman, Teddy Bennett, and Prudence is thrilled to be the maid of honor.
 
But days before the wedding, the bride is nowhere to be found. A frantic search of the island turns up her drowned corpse in an alligator-infested swamp. Prudence is devastated, but as they prepare the body for burial, she and Geoffrey discover evidence of bruising that indicates Eleanor was held under—most dishonorably murdered.
Determined to seek justice for her beloved friend, Prudence begins to investigate with Geoffrey's help and is quickly led into a morass of voodoo spells and dark deeds from the days of slavery. As Prudence and Geoffrey pursue a killer, they soon discover that Eleanor will not be the last to die on Bradford Island …

Purchase Links
About Rosemary Simpson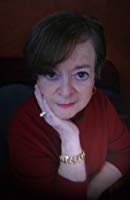 Rosemary Simpson is the author of two previous historical novels, The Seven Hills of Paradise and Dreams and Shadows, and three previous Gilded Age Mysteries: What the Dead Leave Behind, Lies that Comfort and Betray, and Let the Dead Keep Their Secrets. She is a member of Sisters in Crime, International Thriller Writers, and the Historical Novel Society. Educated in France and the United States, she now lives near Tucson, Arizona.
Connect with Rosemary
Instagram tour:
Monday, December 2nd: @one_more_paige
Tuesday, December 3rd: @giuliland
Wednesday, December 4th: @my_book_journey_
Thursday, December 5th: @nurse_bookie
Thursday, December 5th: @readinggirlreviews
Thursday, December 5th: @bibliolau19
Friday, December 6th: @180_looks_with_books
Friday, December 6th: @sarahs_reads
Saturday, December 7th: @pnwbookworm
Sunday, December 8th: @crystals_library
Monday, December 9th: @geronimoreads