To get your book club in the mood for the holidays, we have gathered up some wonderful titles for this special CHRISTMAS IS COMING book club giveaway!
______________________________________________
In Alaska, it's always a white Christmas—but the sparks flying between two reunited friends could turn it red-hot…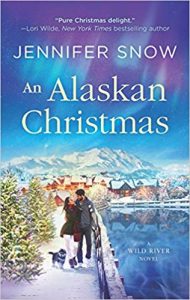 An Alaskan Christmas: A Wild River Novel by Jennifer Snow
If there's one gift Erika Sheraton does not want for Christmas, it's a vacation. Ordered to take time off, the workaholic surgeon reluctantly trades in her scrubs for a ski suit and heads to Wild River, Alaska. Her friend Cassie owns a tour company that offers adventures to fit every visitor. But nothing compares to the adrenaline rush Erika feels on being reunited with Cassie's brother, Reed Reynolds.
Gone is the buttoned-up girl Reed remembers. His sister's best friend has blossomed into a strong, skilled, confident woman. She's exactly what his search-and-rescue team needs—and everything he didn't know he craved. The gulf between his life in Wild River and her big-city career is wide. But it's no match for a desire powerful enough to melt two stubborn hearts…
"Readers will enjoy the mix of sexy love scenes, tense missions, and amiable banter. This entertaining introduction to Wild River will encourage fans of small-town contemporaries to follow the series."–Publishers Weekly 
"An Alaskan Christmas is heartwarming, romantic, and utterly enjoyable."
–New York Times bestselling author Melissa Foster

Purchase Links
______________________________________________
It's Christmastime and everyone is heading to Torte, the most cheerful bakery in town. There's no place like home for the homicide…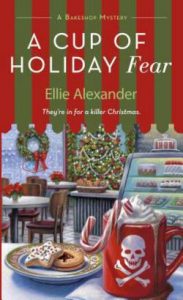 A Cup of Holiday Fear (A Bakeshop Mystery) by Ellie Alexander
Ashland, Oregon, looks as pretty as a postcard this holiday season. The halls are decked, stockings hung, and eyes are all aglow-mostly thanks to the buttered rum. Jules Capshaw and her staff at Torte are busier than ever. . . still, even the town's most in-demand bakers need to take a break. So Jules invites everyone to celebrate at the local Winchester Inn's Dickens Feast, a six-course extravaganza with Yorkshire Pudding, Christmas goose, and all the trimmings. But as the weather outside becomes frightful, things inside turn less delightful when one of the guests ends up as dead as Scrooge's doornail. Now it's up to Jules and her helpers to make a list of suspects?and check it twice?to try to find out who's naughty, who's nice, and who's guilty of murder…
The Bakeshop mysteries are:  "Delicious." RT Book Reviews  "Marvelous." Fresh Fiction

Purchase Links
______________________________________________
In this heartwarming, feel-good holiday novel, one woman needs to find a little inspiration in the 25 days leading up to Christmas to help her remember the magic of the season and the magic of falling in love—perfect for fans of Jenny Colgan and Josie Silver.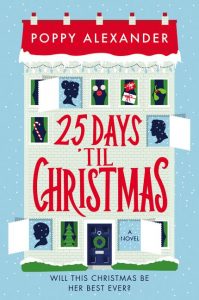 25 Days 'Til Christmas by Poppy Alexander
Kate Potter used to love Christmas. A few years ago, she would have been wrapping her presents in September and baking mince pies on Halloween, counting down the days and hours to Christmas. But that was before Kate's husband left for the army and never came home. Now she can hardly stand December at all.
Kate can't deny she's lonely, yet she doesn't think she's ready for romance. She knows that her son, Jack, needs a Christmas to remember—just like Kate needs a miracle to help her finally move forward with her life. So she's decided if there isn't a miracle on its way, she'll just have to make her own.
As Kate's advent countdown to the best Christmas ever begins, she soon realizes that even with the best laid plans, you can't plan for the unexpected. For when the path of the loneliest woman in town crosses with that of the loneliest man, these two destined hearts might find a way to save the holiday for both of them.

Purchase Links
______________________________________________
This funny, charming and heartwarming new Christmas novel is USA TODAY bestselling author Sarah Morgan at her festive best!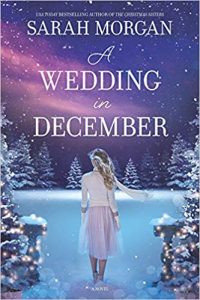 A Wedding in December by Sarah Morgan
In the snowy perfection of Aspen, the White family gathers for youngest daughter Rosie's whirlwind Christmas wedding. First to arrive are the bride's parents, Maggie and Nick. Their daughter's marriage is a milestone they are determined to celebrate wholeheartedly, but they are hiding a huge secret of their own: they are on the brink of divorce. After living apart for the last six months, the last thing they need is to be trapped together in an irresistibly romantic winter wonderland.
Rosie's older sister, Katie, is also dreading the wedding. Worried that impulsive, sweet-hearted Rosie is making a mistake, Katie is determined to save her sister from herself! If only the irritatingly good-looking best man, Jordan, would stop interfering with her plans…
Bride-to-be Rosie loves her fiancé but is having serious second thoughts. Except everyone has arrived—how can she tell them she's not sure? As the big day gets closer, and emotions run even higher, this is one White family Christmas none of them will ever forget!

Purchase Links
______________________________________________

Please fill out our super short registration form (click the "Enter Now" button above) by September 30th for a chance to win a set of up to ten copies of one of these great books for your book club! We will randomly choose a winner at the end of the month. This contest is open to clubs in the US only (our apologies to friends in other countries). 
.
Best of luck!
We 
LOVE

 Book Clubs!