About The Accidentals
• Paperback: 416 pages
• Publisher: William Morrow Paperbacks (August 13, 2019)
Following the death of their mother from a botched backwoods abortion, the McAlister daughters have to cope with the ripple effect of this tragedy as they come of age in 1950s Mississippi and then grow up to face their own impossible choices—an unforgettable, beautiful novel that is threaded throughout with the stories of mothers and daughters in pre-Roe versus Wade America.
Life heads down back alleys, takes sharp left turns. Then, one fine day it jumps the track and crashes."
In the fall of 1957, Olivia McAlister is living in Opelika, Mississippi, caring for her two girls, June and Grace, and her husband, Holly. She dreams of living a much larger life–seeing the world and returning to her wartime job at a landing boat factory in New Orleans. As she watches over the birds in her yard, Olivia feels like an "accidental"—a migratory bird blown off course.
When Olivia becomes pregnant again, she makes a fateful decision, compelling Grace, June, and Holly to cope in different ways. While their father digs up the backyard to build a bomb shelter, desperate to protect his family, Olivia's spinster sister tries to take them all under her wing. But the impact of Olivia's decision reverberates throughout Grace's and June's lives. Grace, caught up in an unconventional love affair, becomes one of the "girls who went away" to have a baby in secret. June, guilt-ridden for her part in exposing Grace's pregnancy, eventually makes an unhappy marriage. Meanwhile Ed Mae Johnson, an African-American care worker in a New Orleans orphanage, is drastically impacted by Grace's choices.
As the years go by, their lives intersect in ways that reflect the unpredictable nature of bird flight that lands in accidental locations—and the consolations of imperfect return.
Filled with tragedy, humor, joy, and the indomitable strength of women facing the constricted spaces of the 1950s and 60s, The Accidentals is a poignant, timely novel that reminds us of the hope and consolation that can be found in unexpected landings.
Social Media
Please use the hashtag #theaccidentals, and tag @tlcbooktours and @williammorrowbooks.

Purchase Links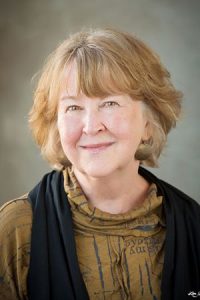 About Minrose Gwin
Minrose Gwin is the author of The Queen of Palmyra, a Barnes & Noble Discover Great New Writers pick and finalist for the John Gardner Fiction Book Award, and the memoir Wishing for Snow, cited by Booklist as "eloquent" and "lyrical"—"a real life story we all need to know." She has written four scholarly books and coedited The Literature of the American South. She grew up in Tupelo, Mississippi, hearing stories of the Tupelo tornado of 1936. She lives in Chapel Hill, North Carolina, and Albuquerque, New Mexico.
Find out more about Minrose at her website.
Instagram Features
Tuesday, August 13th: Instagram: @jennsbookvibes
Wednesday, August 14th: Instagram: @somekindofalibrary
Saturday, August 17th: Instagram: @crystals_library
Sunday, August 18th: Instagram: @readforevermore
Monday, August 19th: Instagram: @lauralovestoread
Monday, August 19th: Instagram: @bookswritingandmore
Wednesday, August 21st: Instagram: @readingbetweenthe__wines
Thursday, August 22nd: Instagram: @thats_what_she_read
TOUR REPLAY: @TLCBookTours
Review Stops
Tuesday, August 13th: Broken Teepee
Wednesday, August 14th: BookNAround
Wednesday, August 14th: Jathan & Heather
Thursday, August 15th: Kahakai Kitchen
Thursday, August 15th: Kritters Ramblings
Friday, August 16th: Girl Who Reads
Monday, August 19th: Instagram: @beritaudiokilledthebookmark
Tuesday, August 20th: Books and Bindings
Wednesday, August 21st: Lit and Life
Thursday, August 22nd: Jennifer ~ Tar Heel Reader
Monday, August 26th: Instagram: @lindsays_books
Tuesday, August 27th: Tales of a Book Addict
Wednesday, August 28th: Into the Hall of Books
Thursday, August 29th: Tina Says…
Friday, August 31st: Instagram: @iowaamberreads