About The Chocolate Maker's Wife
• Paperback: 608 pages
• Publisher: William Morrow Paperbacks (August 20, 2019)
Australian bestselling novelist Karen Brooks rewrites women back into history with this breathtaking novel set in 17th century London—a lush, fascinating story of the beautiful woman who is drawn into a world of riches, power, intrigue…and chocolate.
Damnation has never been so sweet…
Rosamund Tomkins, the illegitimate daughter of a nobleman, spends most of her young life in drudgery at a country inn. To her, the Restoration under Charles II, is but a distant threat as she works under the watchful eye of her brutal, abusive stepfather . . . until the day she is nearly run over by the coach of Sir Everard Blithman.
Sir Everard, a canny merchant, offers Rosamund an "opportunity like no other," allowing her to escape into a very different life, becoming the linchpin that will drive the success of his fledgling business: a luxurious London chocolate house where wealthy and well-connected men come to see and be seen, to gossip and plot, while indulging in the sweet and heady drink.
Rosamund adapts and thrives in her new surroundings, quickly becoming the most talked-about woman in society, desired and respected in equal measure.
But Sir Everard's plans for Rosamund and the chocolate house involve family secrets that span the Atlantic Ocean, and which have already brought death and dishonor to the Blithman name. Rosamund knows nothing of the mortal peril that comes with her new title, nor of the forces spinning a web of conspiracy buried in the past, until she meets a man whose return tightens their grip upon her, threatening to destroy everything she loves and damn her to a dire fate.
As she fights for her life and those she loves through the ravages of the Plague and London's Great Fire, Rosamund's breathtaking tale is one marked by cruelty and revenge; passion and redemption—and the sinfully sweet temptation of chocolate.
Social Media
Please use the hashtag #thechocolatemakerswife and tag @tlcbooktours and @williammorrowbooks.

Purchase Links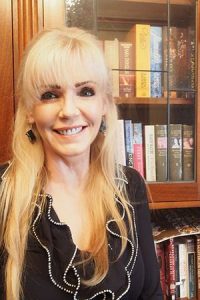 About Karen Brooks
Karen Brooks is the author of twelve books, an academic of more than twenty years' experience, a newspaper columnist and social commentator, and has appeared regularly on national TV and radio. Before turning to academia, she was an army officer for five years, and prior to that dabbled in acting.
She lives in Hobart, Tasmania, in a beautiful stone house with its own marvellous history. When she's not writing, she's helping her husband Stephen in his brewery, Captain Bligh's Ale and Cider, or cooking for family and friends, travelling, cuddling and walking her dogs, stroking her cats, or curled up with a great book and dreaming of more stories.
Find out more about Karen at her website, and connect with her on Facebook and Twitter.
Instagram Features
Tuesday, August 20th: Instagram: @owlslittlelibrary
Tuesday, August 20th: Instagram: @books.coffee.cats
Wednesday, August 21st: Instagram: @theunreadshelf
Thursday, August 22nd: Instagram: @bookswritingandmore
Friday, August 23rd: Instagram: @giuliland
Saturday, August 24th: Instagram: @rendezvous_with_reading
Sunday, August 25th: Instagram: @wherethereadergrows
Monday, August 26th: Instagram: @bookishwinterwitch
TOUR REPLAY: @TLCBookTours
Review Stops
Tuesday, August 20th: BookNAround
Wednesday, August 21st: A Chick Who Reads
Thursday, August 22nd: Hopelessly Devoted Bibliophile
Friday, August 23rd: Broken Teepee
Monday, August 26th: Jennifer ~ Tar Heel Reader
Tuesday, August 27th: Based on a True Story
Wednesday, August 28th: Reading Reality
Thursday, August 29th: Laura's Reviews
Friday, August 30th: Patricia's Wisdom
Friday, August 30th: Bloggin' 'Bout Books
Monday, September 2nd: Jathan & Heather
Tuesday, September 3rd: Tina Says…
Wednesday, September 4th: Book by Book
Thursday, September 5th: bookish bliss and beauty
Friday, September 6th: Real Life Reading