Join us for an Instagram tour and Review tour for
Paperback: 302 pages
Publisher: Lake Union Publishing (July 9, 2019)
From the Amazon Charts and Wall Street Journal bestselling author of the Everything series comes a new novel of love, lies, and deceit.
Lifestyle journalist Ella Skye remembers every celebrity she interviewed, every politician she charmed between the sheets, and every socialite who eyed her with envy. The chance meeting with her husband, Damien; their rapid free fall into love; and their low-key, intimate wedding are all locked in her memory. But what she can't remember is the tragic car accident that ripped her unborn child from her. Ella can't even recall being pregnant.
Hoping to find the memories of a lost pregnancy that's left her husband devastated and their home empty, Ella begins delving into her past when she's assigned an exclusive story about Nathan Donovan, a retired celebrity adventurer who seems to know more about her than she does him. To unravel the mystery of her selective memory loss, Ella follows Nathan from the snowcapped Sierra Nevada to the frozen slopes of southeast Alaska. There she discovers the people she trusts most aren't the only ones keeping secrets from her—she's hiding them from herself. Ella quickly learns that some truths are best left forgotten.

Purchase Links
About Kerry Lonsdale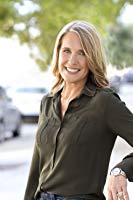 Kerry Lonsdale is the Wall Street Journal, Amazon Charts, and #1 Amazon Kindle bestselling author of the Everything series—Everything We Keep, Everything We Left Behind, and Everything We Give—as well as All the Breaking Waves. She resides in Northern California with her husband and two children. Learn more about Kerry at www.kerrylonsdale.com.
Connect with Kerry
Instagram tour:
Tuesday, July 9th: @downtogetthefictionon
Wednesday, July 10th: @girlsinbooks
Wednesday, July 10th: @givemeallthebooks
Thursday, July 11th: @libraryinprogress
Thursday, July 11th: @thriftybibliophile
Friday, July 12th: @lifeinlit
Friday, July 12th: @ohthebooksshewillread
Saturday, July 13th: @readingbetweenthe_wines
Sunday, July 14th: @pieladybooks
Monday, July 15th: @shereadswithcats
Review tour:
Monday, July 8th: Patricia's Wisdom
Tuesday, July 9th: Palmer's Page Turners
Wednesday, July 10th: Well Read Traveler and @wellreadtraveler
Thursday, July 11th: Lori's Reading Corner – author guest post
Monday, July 15th: Novel Gossip and @novelgossip
Monday, July 15th: She Reads With Cats
Monday, July 15th: @cassidys.bookshelf
Tuesday, July 16th: @cassies_book_reviews
Wednesday, July 17th: Thoughts from a Highly Caffeinated Mind
Thursday, July 18th: Booked J
Friday, July 19th: Tar Heel Reader and @tarheelreader
Monday, July 22nd: Kendra Loves Books
Tuesday, July 23rd: Jessicamap Reviews and @jessicamap
Wednesday, July 24th: @one_more_paige
Thursday, July 25th: @beritaudiokilledthebookmark
Friday, July 26th: Kahakai Kitchen
Monday, July 29th: Books and Bindings
Tuesday, July 30th: Girl Who Reads
Wednesday, July 31st: Run Wright
Thursday, August 1st: Treestand Book Reviews
Friday, August 9th: Thoughts on This 'n That