Join us for an Instagram tour for
Paperback: 336 Pages
Publisher: Quirk Books (September 18, 2018)
In this hard-rocking, spine-tingling supernatural thriller, the washed-up guitarist of a '90s heavy metal band embarks on an epic road-trip across America and deep into the web of a sinister conspiracy.

Grady Hendrix, horror writer and author of Paperbacks from Hell and My Best Friend's Exorcism, is back with his most electrifying novel yet. In the 1990s, heavy metal band Dürt Würk was poised for breakout success—but then lead singer Terry Hunt embarked on a solo career and rocketed to stardom as Koffin, leaving his fellow bandmates to rot in obscurity.
Two decades later, former guitarist Kris Pulaski works as the night manager of a Best Western—she's tired, broke, and unhappy. Everything changes when a shocking act of violence turns her life upside down, and she begins to suspect that Terry  sabotaged more than just the band.
Kris hits the road, hoping to reunite with the rest of her bandmates and confront the man who ruined her life. It's a journey that will take her from the Pennsylvania rust belt to a celebrity rehab center to a music festival from hell. A furious power ballad about never giving up, even in the face of overwhelming odds, We Sold Our Souls is an epic journey into the heart of a conspiracy-crazed, pill-popping, paranoid country that seems to have lost its very soul…where only a lone girl with a guitar can save us all.

Purchase Links
About Grady Hendrix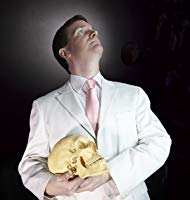 Grady Hendrix is a novelist and screenwriter based in New York City. His novels include Horrorstör, named one of the best books of 2014 by National Public Radio, and My Best Friend's Exorcism, for which the Wall Street Journal dubbed him "a national treasure." The Bram Stoker Award winning Paperbacks from Hell, a survey of outrageous horror novels of the 1970s and '80s, was called "pure, demented delight" by the New York Times Book Review. He's contributed to Playboy, The Village Voice, and Variety.
Connect with Grady
Instagram tour:
Monday, June 24th: @scaredstraightreviews
Tuesday, June 25th: @novelgrounds
Tuesday, June 25th: @diaryofaclosetreader
Wednesday, June 26th: @lovelyreadergirl
Thursday, June 27th: @thecityofdarkclockwork
Friday, June 28th: @jessicamap
Saturday, June 29th: @novelreality
Monday, July 1st: @bookclubwithbite
Tuesday, July 2nd: @lostinastack
Tuesday, July 2nd: @megabunnyreads