Join us for an Instagram tour for
Hardcover: 304 Pages
Publisher: Roost Books (February 5, 2019)
Discover a body-positive approach to food through nourishing recipes, heart-opening stories, and helpful lessons on creating a healthy relationship with food. 
Maggie Battista struggled with eating and dieting her whole life, until she discovered the foods and recipes that made her finally see herself as worthy of good health. In this kind and generous cookbook she shares the more than 100 mostly wholesome, mainly dairy-free, plant-based, and always refined sugar–free recipes that helped her find her way to good health, lose 70 pounds, and rid herself of years of chronic aches and pains. With stories that chronicle her struggles, victories, and lessons from finally reconciling her relationship with food; tips and advice on changing your own approach to food; and recipes for every time of day and occasion; A New Way to Food is the playbook for seeing yourself with kinder eyes and enjoying every meal along the way.

Purchase Links
About Maggie Battista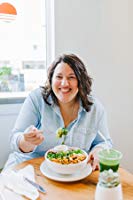 MAGGIE BATTISTA is the founder and director of Eat Boutique, an award-winning online boutique and story-driven recipe site. She has built a business and life as a tastemaker, excelling in bringing people together (both online and in real life) and inspiring them through her own recipes (including her cookbook, Food Gift Love); collections of hand-chosen, small-batch food from the very best food and drink makers; one-of-a-kind events and pop-up markets for 20,000+ guests; and speaking engagements where she shares her insights on food, technology, and social marketing. She's currently working on opening her first permanent Eat Boutique, a food retail concept space that provides a new way to food in Boston and then beyond.
Connect with Maggie
Instagram tour:
Monday, May 6th: @_forevermint
Monday, May 6th: @no4cottonburrow
Tuesday, May 7th: @thestackspod
Wednesday, May 8th: @sarahs_reads
Thursday, May 9th: @nerdybooknurse
Friday, May 10th: @lovelyreadergirl
Saturday, May 11th: @karen_runwright
Saturday, May 11th: @hippiechickreads