Join us for an Instagram tour for
Hardcover: 144 Pages
Publisher: Workman Publishing Company (May 28, 2019)
Boy, do we love our s'mores. Americans buy an estimated 90 million pounds of marshmallows a year, and more than half are toasted and sandwiched with a chocolate bar between two graham crackers. Which inspired Dan Whalen to ask: What would happen if you kept the s'mores architecture—three layers of gooey, melty, and crunchy—but changed it up? The result: Salted Caramel S'mores, Lemon Meringue S'mores, Kettle Corn S'mores, not to mention the Elvis—a bacon, banana, and peanut butter s'more.
In 50 playful recipes, photographed in full color and packaged in a puffy square format reminiscent of the original formation, S'mores!completely redefines what a s'more is—and where it can be made—by designing all recipes to be made in a standard oven (adapted for an outdoor fire). Dan Whalen, who in his last book tackled another singular passion, Tots!, redefines both the filling of the s'more—ice cream, sweet potatoes, cereal, Peeps, Sriracha, figs, avocado, even a scallop (which bears some resemblance to a marshmallow)—and the "cracker"—using phyllo dough, pie crust, potato chips, and cannoli sheets. From the deliciously simple Nutella S'mores to the sophisticated Grilled Peach Basil S'mores, this book emphatically and mouthwateringly puts the more! in s'mores.

Purchase Links
About Dan Whalen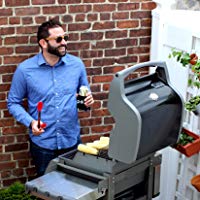 Dan Whalen is the culinary mad-genius creator of the popular recipe blog The Food in my Beard and the author of Stuffed: The Ultimate Comfort Food Cookbookand the forthcoming The Comfort Food Mash-Up. Since starting his website in 2008, he has published more than 1,000 recipes that have been viewed over 6 million times, and has produced numerous viral videos including a Quesadilla-Bun Burger video that has racked up 24 million views. His work has been featured in Saveur, Bon Appétit, Serious Eats, Fine Cooking, Boston.com, MSNBC, and Huffington Post, among others. He lives in Boston, MA.
Connect with Dan
Instagram tour:
Tuesday, May 28th: @theliteraryllama
Tuesday, May 28th: @sarahs_reads
Thursday, May 30th: @my_book_journey
Friday, May 31st: @hothanjama
Sunday, June 2nd: @bookishblissandbeauty
Monday, June 3rd: @dropandgivemenerdy
Monday, June 3rd: @naturalnglamorous
Tour Replay: @tlcbooktours