Hardcover: 320 Pages
Publisher: Atria Books (May 7, 2019)
Berlin, 1939. Bookseller Amanda Sternberg and her husband, Julius, dreamed of blissful summers spent by the lake at Wannsee and unlimited opportunities for their children. But that all falls apart when the family bookshop is destroyed and Julius is sent to a concentration camp. Now, desperate to flee Nazi Germany and preserve what's left of her family, Amanda heads toward the south of France with her two young daughters—only to arrive with one. In Haute-Vienne, their freedom is short-lived, and soon she and her eldest daughter are forced into a labor camp, where Amanda must once again make an impossible sacrifice.
New York City, 2015. Eighty-year-old Elise Duval receives a call from a woman bearing messages from a time and country that she forced herself to forget. A French Catholic who arrived in New York after World War II, Elise is shocked to discover that the letters were from her mother, written in German during the war. Despite Elise's best efforts to stave off her past, seven decades of secrets begin to unravel.
Based on true events, The Daughter's Tale chronicles one of the most harrowing atrocities perpetrated by the Nazis during World War II. Heartbreaking and immersive, it is a beautifully crafted family saga of love, survival, and redemption.

Purchase Links
.
About Armando Lucas Correa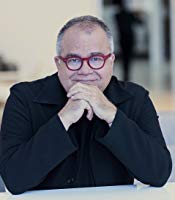 Armando Lucas Correa is an award-winning journalist, editor, author, and the recipient of several awards from the National Association of Hispanic Publications and the Society of Professional Journalism. He is the author of the international bestseller The German Girl, which is now being published in thirteen languages. He lives in New York City with his partner and their three children.
.
Connect with Armando
.
TLC Book Tours TOUR STOPS for The Daughter's Tale:
Wednesday, May 8th: Tar Heel Reader and @tarheelreader
Thursday, May 9th: Kendra Loves Books
Friday, May 10th: Books and Cats and Coffee and @bookncatsncoffee
Sunday, May 12th: Books and Bindings
Monday, May 13th: She Reads With Cats and @shereadswithcats
Monday, May 13th: Into the Hall of Books
Tuesday, May 14th: Audio Killed the Bookmark and @beritaudiokilledthebookmark
Wednesday, May 15th: Staircase Wit
Friday, May 17th: Amy's Book-et List
Monday, May 27th: Thoughts on This 'n That
Thursday, May 30th: Tina Says
Wednesday, June 5th: Savvy Verse and Wit