Join us for an Instagram tour for
Paperback: 304 Pages
Publisher: Kensington (March 26, 2019)
In 1913, while the women's suffrage movement gains momentum in the nation's capital, the thought of a woman joining the New York City police force is downright radical, even if recent transplant Louise Faulk has already solved a murder . . .
Louise has finally gathered the courage to take the police civil service exam, but when she returns to her secretary job at the midtown publishing house of Van Hooten and McChesney, she's shocked to find the offices smoldering from a deadly, early morning fire. Huddled on the sidewalk, her coworkers inform her that Guy Van Hooten's body has been found in the charred ruins. Rumors of foul play are already circulating, and the firm's surviving partner asks Louise to investigate the matter.
Despite a number of possible suspects, the last person Louise expects to be arrested is Ogden McChesney, an old friend and mentor to her aunt Irene. Louise will have to search high and low, from the tenements in the Lower East Side to the very clouds above the tallest skyscrapers, to get to the bottom of an increasingly complex case . . .

Purchase Links
About Liz Freeland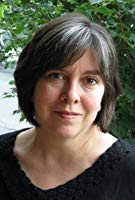 Liz Freeland lives with her husband in Montreal, where she writes and astounds the locals with her makeshift French. An elderly cat or dog (or two . . . or four) can typically be found in her apartment, and during the busiest day, Liz usually finds time to sneak in an old movie.
Connect with Liz
Instagram Tour:
Monday, April 1st: @oxfordjanebooks
Monday, April 1st: @180_looks_with_books
Tuesday, April 2nd: @theunreadshelf
Wednesday, April 3rd: @thesaggingbookshelf
Thursday, April 4th: @_ebl_inc_
Friday, April 5th: @createexploreread
Saturday, April 6th: @jessicamap
Sunday, April 7th: @giuliland
TOUR REPLAY: @TLCBookTours