Hardcover: 336 Pages
Publisher: Thomas Nelson (March 19, 2019)
The only thing certain is change—even in a place as steady as Perry, Alabama, on a street as old as Glory Road.
Nearly a decade after her husband's affair drove her back home to South Alabama, Jessie McBride has the stable life she wants—operating her garden shop, Twig, next door to her house on Glory Road, and keeping up with her teenage daughter and spunky mother. But the unexpected arrival of two men makes Jessie question whether she's really happy with the status quo. When handsome, wealthy businessman Sumner Tate asks her to arrange flowers for his daughter's lavish wedding, Jessie finds herself drawn to his continued attention. Then Ben Bradley, her lingering what-could-have-been from high school, moves back to the red dirt road, and she feels her heart pulled in directions she never expected.
Meanwhile, Jessie's fourteen-year-old daughter, Evan, is approaching the start of high school and navigating a new world of emotions—particularly as they relate to the cute new guy who's moved in just down the road. At the same time, Jessie's mother, Gus, is suffering increasingly frequent memory lapses and faces a frightening, uncertain future. Once again, Jessie feels her protected and predictable life shifting.
In one summer, everything will change. But for these three strong Southern women, the roots they've planted on Glory Road will give life to the adventures waiting just around the curve.
"Rich colorful characters capturing my heart, combined with a story that kept me up till the wee hours, Glory Road is a perfect read. Lauren Denton has done it again!" —Lisa Patton, bestselling author of Rush and Whistlin' Dixie in a Nor'easter
"Once again Lauren Denton brings her lyrical writing and compelling characters to a story that will enthrall readers from page one." —Marybeth Mayhew Whalen, author of Only Ever Her and co-founder of She Reads, for Glory Road

Purchase Links
About Lauren K. Denton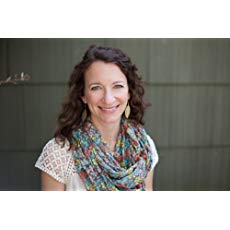 Born and raised in Mobile, Alabama, Lauren now lives with her husband and two daughters in Homewood, just outside Birmingham. In addition to her fiction, she writes a monthly newspaper column about life, faith, and how funny (and hard) it is to be a parent. On any given day, she'd rather be at the beach with her family and a stack of books. Her debut novel, THE HIDEAWAY, was a Wall Street Journal, USA Today, and Amazon Charts bestseller. Her second novel, HURRICANE SEASON, released in spring of 2018, is a USA Today bestseller. GLORY ROAD will release in March, 2019.
.
Connect with Lauren
Lauren K. Denton's TLC Book Tours TOUR STOPS:
Monday, March 11th: Blooming with Books
Tuesday, March 12th: Reading Reality
Thursday, March 14th: The Sketchy Reader and @thesketchyreader
Tuesday, March 19th: Christian Chick's Thoughts
Friday, March 22nd: Tar Heel Reader and  @tarheelreader
Monday, March 25th: Book by Book
Monday, March 25th: @thecaffeinated_bibliophile
Tuesday, March 26th: Amy's Book-et List and @buckeye_gal4books
Tuesday, March 26th: @thesaggingbookshelf
Wednesday, March 27th: Running Through the Storms
Thursday, March 28th: Girl Who Reads
Tuesday, April 2nd: Diary of a Stay at Home Mom
Thursday, April 4th: Kahakai Kitchen and @debinhawaii
Friday, April 5th: Kritter's Ramblings
Monday, April 8th: Eliot's Eats
Wednesday, April 10th: Cheryl's Book Nook
Thursday, April 11th: By the Book
Friday, April 12th: The Lit Bitch
Monday, April 15th: Reflections from my Bookshelves
Friday, April 19th: View from the Birdhouse
Friday, April 19th: What is That Book About