Join us for an Instagram tour for
Mass Market Paperback: 368 Pages
Publisher: Zebra (March 26, 2019)
In the rugged Ozarks of beautiful Branson, Missouri, a woman struggles to save her marriage—and finds answers from an unexpected source . . .
 
Allison felt like she'd stepped into a fairy tale when she married widower Burke Caldwell. But after less than a year of marriage, he's become removed and distant. His friends see Allison as little more than a trophy wife, his only daughter regards her as the enemy. With everyone so devoted to the memory of Burke's first wife, Kate, how can Allison possibly compete? Then a harrowing car crash leaves Burke badly injured. But it becomes achingly clear that the woman Burke wants by his side is the wife he lost . . .
No longer able to dismiss the power Kate still holds, Allison can't resist reading a trove of hidden letters from Kate to Burke. What she discovers sets her mind reeling. The letters give Allison an enlightening window into her husband's heart. But will she have the courage to put aside her own fears, and grab hold of a love as big and bold as the man she once dared to marry?

Purchase Links
 About Janet Dailey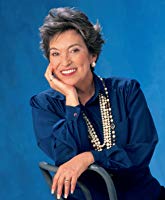 JANET DAILEY's first book was published in 1976. Since then she has written more than 100 novels and become one of the top-selling female authors in the world, with 300 million copies of her books sold in nineteen languages in ninety-eight countries. She is known for her strong, decisive characters, her extraordinary ability to recreate a time and a place, and her unerring courage to confront important, controversial issues in her stories. You can learn more about Janet at www.JanetDailey.com.
Connect with Janet
Instagram tour:
Sunday, March 24th: @tlcbooktours – giveaway
Monday, March 25th: @girlandherbooks
Tuesday, March 26th: @pnwbookworm
Tuesday, March 26th: @acozyreader
Wednesday, March 27th: @thebookishsisters
Wednesday, March 27th: @tarheelreader
Thursday, March 28th: @all.the.lovely.pages
Friday, March 29th: @oddandbookish
Saturday, March 30th: @hollyslittlebookreviews
Sunday, March 31st: @reads_romance
TOUR REPLAY: @TLCBookTours