Please join us for an Instagram and review tour for
Paperback: 352 Pages
Publisher: Thomas Nelson (April 9, 2019)
A once-beloved hotel and a fountain whose water suddenly can restore lost memories. But is it a miracle, or are there strings attached?
The Tuscany Hotel was once a haven for young artists. A place full of inspiration and a work of art in and of itself, the hotel was built by Robert Gandy for his wife, Magdalena: a woman of beauty beyond description who was orphaned as an infant in Florence and grew up without the ability to remember. A tragedy caused the hotel to close its doors, however, and it has been years since the fountain in the courtyard ran with water and inspiration.
Vitto Gandy, Robert's son, returns from the horrors of World War II to a wife who fears him, a son who is too young to remember him, and a father whose memory of him is fading. As Vitto faces the memories that torture his heart and mind, his father runs off in the night to seek solace in the last place he was happy: the Tuscany Hotel. Instead of finding ruins, he discovers that the water in the fountain has begun to run again. And as he drinks it, his memory returns.
Filled with Alzheimer's patients hoping for restored memories rather than artists longing for inspiration, the hotel is once again a source of life and art. But nothing is truly as good as it seems, and the mysterious gift of the hotel comes with a price that each must determine they're willing to pay. Bursting with beauty, art, and inspiration, Midnight at the Tuscany Hotel is a story of parent and child, husband and wife, and the joy and pain of what it means to be alive.

Purchase Links
About James Markert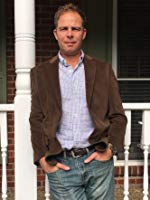 James Markert lives with his wife and two children in Louisville, Kentucky. He has a history degree from the University of Louisville and won an IPPY Award for The Requiem Rose, which was later published as A White Wind Blew, a story of redemption in a 1929 tuberculosis sanatorium, where a faith-tested doctor uses music therapy to heal the patients. The Angels' Share is his second novel, and he is currently working on his next historical, All Things Bright and Strange. James is also a USPTA tennis pro, and has coached dozens of kids who've gone on to play college tennis in top conferences like the BIG 10, the Big East, and the ACC.
Connect with James
Instagram tour:
Monday, April 8th: @theunreadshelf
Tuesday, April 9th: @_forevermint
Wednesday, April 10th: @tarheelreader
Thursday, April 11th: @read.write.coffee
Sunday, April 14th: @jennblogsbooks
Tuesday, April 16th: @dropandgivemenerdy
Tuesday, April 16th: @_ebl_inc_
TOUR REPLAY @tlcbooktours
Review tour:
Monday, March 18th: A Chick Who Reads
Tuesday, March 19th: 100 Pages a Day
Wednesday, March 20th: Write Read Life
Thursday, March 21st: Lori's Reading Corner – spotlight
Monday, March 25th: Cheryl's Book Nook
Tuesday, March 26th: All of a Kind Mom
Thursday, March 28th: Peppermint Ph.D.
Monday, April 1st: Book by Book
Wednesday, April 3rd: @amberafterglowreads
Monday, April 8th: Bibliophile.reviews
Wednesday, April 10th: Jathan & Heather
Thursday, April 11th: Amy's Book-et List and @buckeye_gal4books
Monday, April 15th: @hollyslittlebookreviews
Thursday, April 18th: Thoughts on This 'n That
Monday, April 22nd: The Lit Bitch
Monday, April 22nd: Reader's Cozy Corner
Wednesday, April 24th: Jathan & Heather – author Q&A
Thursday, April 25th: Broken Teepee and @brokenteepee
Friday, April 26th: Books & Bindings