About The Gown
• Hardcover: 400 pages
• Publisher: William Morrow (December 31, 2018)
"The Gown is marvelous and moving, a vivid portrait of female self-reliance in a world racked by the cost of war."–Kate Quinn, New York Times bestselling author of The Alice Network
From the internationally bestselling author of Somewhere in France comes an enthralling historical novel about one of the most famous wedding dresses of the twentieth century—Queen Elizabeth's wedding gown—and the fascinating women who made it.
"Millions will welcome this joyous event as a flash of color on the long road we have to travel."
—Sir Winston Churchill on the news of Princess Elizabeth's forthcoming wedding

London, 1947: Besieged by the harshest winter in living memory, burdened by onerous shortages and rationing, the people of postwar Britain are enduring lives of quiet desperation despite their nation's recent victory. Among them are Ann Hughes and Miriam Dassin, embroiderers at the famed Mayfair fashion house of Norman Hartnell. Together they forge an unlikely friendship, but their nascent hopes for a brighter future are tested when they are chosen for a once-in-a-lifetime honor: taking part in the creation of Princess Elizabeth's wedding gown.
Toronto, 2016: More than half a century later, Heather Mackenzie seeks to unravel the mystery of a set of embroidered flowers, a legacy from her late grandmother. How did her beloved Nan, a woman who never spoke of her old life in Britain, come to possess the priceless embroideries that so closely resemble the motifs on the stunning gown worn by Queen Elizabeth II at her wedding almost seventy years before? And what was her Nan's connection to the celebrated textile artist and holocaust survivor Miriam Dassin?
With The Gown, Jennifer Robson takes us inside the workrooms where one of the most famous wedding gowns in history was created. Balancing behind-the-scenes details with a sweeping portrait of a society left reeling by the calamitous costs of victory, she introduces readers to three unforgettable heroines, their points of view alternating and intersecting throughout its pages, whose lives are woven together by the pain of survival, the bonds of friendship, and the redemptive power of love.
Social Media
Please use the hashtag #thegown and tag @tlcbooktours, @authorjenniferrobson, and @williammorrowbooks.

Purchase Links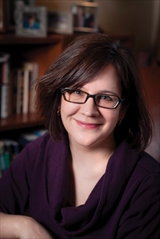 About Jennifer Robson
Jennifer Robson is the USA Today and #1 Toronto Globe & Mail bestselling author of Somewhere in France, After the War is Over and Moonlight Over Paris. She holds a doctorate from Saint Antony's College, University of Oxford. She lives in Toronto with her husband and young children.
Find out more about Jennifer at her website, and connect with her on Facebook, Instagram, and Twitter.
Instagram Features
Monday, December 31st: Instagram: @shereadswithcats
Monday, December 31st: Instagram: @megabunnyreads
Thursday, January 3rd: Instagram: @libraryinprogress
Friday, January 4th: Instagram: @lavieestbooks
Saturday, January 5th: Instagram: @oddandbookish
Sunday, January 6th: Instagram: @brookesbooksandbrews
Sunday, January 6th: Instagram: @jessicamap
Monday, January 7th: Instagram: @books.coffee.cats
Tour Replay: @TLCBookTours
Review Stops
Monday, December 31st: Instagram: @ladyofthelibrary
Monday, December 31st: Reading Reality
Wednesday, January 2nd: Instagram: @my_book_journey_
Wednesday, January 2nd: 5 Minutes For Books
Thursday, January 3rd: Bloggin' 'Bout Books
Friday, January 4th: Into the Hall of Books
Monday, January 7th: BookNAround
Monday, January 7th: InkyMoments
Tuesday, January 8th: Jessicamap Reviews
Wednesday, January 9th: Instagram: @giuliland
Thursday, January 10th: A Chick Who Reads
Saturday, January 12th: Lindsay's Book Reviews
Monday, January 14th: Instagram: @ciannereads
Tuesday, January 15th: Instagram: @sjwonderlandz
Tuesday, January 15th: Based on a True Story
Wednesday, January 16th: Always With a Book
Wednesday, January 16th: Instagram: @tbretc
Thursday, January 17th: Instagram: @somekindofalibrary
Thursday, January 17th: Doing Dewey
Thursday, January 17th: Instagram: @theunreadshelf
Friday, January 18th: Broken Teepee
Friday, January 18th: Laura's Reviews
Tuesday, January 22nd: A Bookish Way of Life
Friday, January 25th: As I turn the pages