Join us for an Instagram tour for
Hardcover: 352 Pages
Publisher: Sourcebooks Fire (February 5, 2019)
Four walls. One window. No way to escape.
Hannah knows there's been a mistake, She doesn't need to be institutionalized. What happened to her roommate at that summer program was an accident. As soon as the doctor and judge figure out that she isn't a danger to herself or others, she can go home to start her senior year. Those college applications aren't going to write themselves. Until then, she's determined to win over the staff and earn some privileges so she doesn't lose her mind to boredom.
Then Lucy arrives. Lucy has her own baggage, and she's the perfect project to keep Hannah's focus off all she is missing at home. But Lucy may be the one person who can get Hannah to confront the secrets she's avoiding-and the dangerous games that landed her in confinement in the first place.

Purchase Links
About Alyssa Sheinmel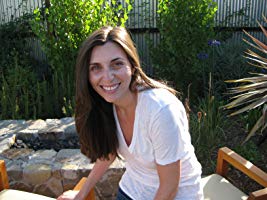 Alyssa Sheinmel is the bestselling author of several novels for young adults including R.I.P. Eliza Hart and Faceless. She is the co-author of the New York Times bestselling novel The Haunting of Sunshine Girl and its sequel, The Awakening of Sunshine Girl. Bestselling author Luanne Rice called Faceless "gorgeous and wrenching… a vivid, compelling, beautiful, immediate novel." Follow Alyssa on Instagram @alyssasheinmel and Twitter @AlyssaSheinmel, or visit her online at www.alyssasheinmel.com.
Connect with Alyssa
Alyssa's TLC Book Tours Instagram Tour Stops
Monday, February 4th: @katielmae
Monday, February 4th: @love_my_dane_dolly
Tuesday, February 5th: @hotcocoareads
Tuesday, February 5th: @bibliotrix.lestrange
Wednesday, February 6th: @girlsinbooks
Wednesday, February 6th: @readingbetweenthe_wines
Thursday, February 7th: @thecityofdarkclockwork
Friday, February 8th: @jennblogsbooks
Saturday, February 9th: @booktimistic
Saturday, February 9th: @stephaniehowell
Sunday, February 10th: @wherethereadergrows
Tuesday, February 19th: @tlcbooktours TOUR REPLAY