About Family Trust
• Hardcover: 400 pages
• Publisher: William Morrow (October 30, 2018)
THE INAUGURAL BUZZFEED BOOK CLUB PICK
NAMED ONE OF THE MOST ANTICIPATED BOOKS OF THE FALL BY
The Washington Post • Elle.com • Buzzfeed • Entertainment Weekly • Bustle • The Globe and Mail • Apartment Therapy • Town & Country • Harper's Bazaar
"Reads like a brilliant mashup of The Nest and Crazy Rich Asians (with a soupçon of Arrested Development for good measure)." — Cristina Alger, author of The Banker's Wife
Meet Stanley Huang: father, husband, ex-husband, man of unpredictable tastes and temper, aficionado of all-inclusive vacations and bargain luxury goods, newly diagnosed with pancreatic cancer.
Meet Stanley's family: son Fred, who feels that he should be making a lot more money; daughter Kate, managing a capricious boss, a distracted husband, and two small children; ex-wife Linda, familiar with and suspicious of Stanley's grandiose ways; and second wife Mary, giver of foot rubs and ego massages.
For years, Stanley has insistently claimed that he's worth a small fortune. Now, as the Huangs come to terms with Stanley's approaching death, they are also starting to fear that Stanley's "small fortune" may be more "small" than "fortune." A compelling tale of cultural expectations, career ambitions and our relationships with the people who know us best, Family Trustdraws a sharply loving portrait of modern American family life.
Social Media
Please use the hashtag #familytrust and tag @williammorrowbooks, @bykathywang, and @tlcbooktours.

Purchase Links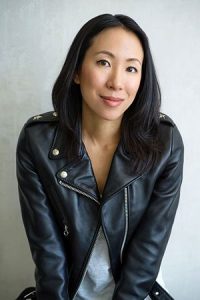 About Kathy Wang
Kathy Wang grew up in Northern California and holds degrees from UC Berkeley and Harvard Business School. She lives in the Bay Area with her husband and two children.
Visit Kathy's website and connect with her on Facebook, Twitter, and Instagram.
Instagram Features
Tuesday, November 6th: Instagram: @kate.olson.reads
Wednesday, November 7th: Instagram: @tbretc
Thursday, November 8th: Instagram: @diaryofaclosetreader
Sunday, November 11th: Instagram: @booksugar
Monday, November 12th: Instagram: @jackiereadsbooks
Tuesday, November 13th: Instagram: @the_grateful_read
Tour Replay: @TLCBookTours
Review Stops
Tuesday, November 6th: BookNAround
Thursday, November 8th: bookchickdi
Friday, November 9th: Man of La Book
Monday, November 12th: Books and Bindings
Tuesday, November 13th: Literary Quicksand
Wednesday, November 14th: Instagram: @writersdream
Thursday, November 15th: Ms. Nose in a Book
Friday, November 16th: Thoughts From a Highly Caffeinated Mind
Monday, November 19th: Broken Teepee
Tuesday, November 20th: As I turn the pages
Wednesday, November 21st: Instagram: @shereadswithcats
Friday, December 7th: A Bookish Way of Life