Hardcover: 288 Pages
Publisher: Crown (February 5, 2019)
The thrilling second novel from the author of The Chalk Man, about a teacher with a hidden agenda who returns to settle scores at a school he once attended, only to uncover a darker secret than he could have imagined.
Joe never wanted to come back to Arnhill. After the way things ended with his old gang–the betrayal, the suicide, the murder–and after what happened when his sister went missing, the last thing he wanted to do was return to his hometown. But Joe doesn't have a choice. Because judging by what was done to that poor Morton kid, what happened all those years ago to Joe's sister is happening again. And only Joe knows who is really at fault.
Lying his way into a teaching job at his former high school is the easy part. Facing off with former friends who are none too happy to have him back in town–while avoiding the enemies he's made in the years since–is tougher. But the hardest part of all will be returning to that abandoned mine where it all went wrong and his life changed forever, and finally confronting the shocking, horrifying truth about Arnhill, his sister, and himself. Because for Joe, the worst moment of his life wasn't the day his sister went missing.
It was the day she came back.
With the same virtuosic command of character and pacing she displayed in The Chalk Man, C. J. Tudor has once again crafted an extraordinary novel that brilliantly blends harrowing psychological suspense, a devilishly puzzling mystery, and enough shocks and thrills to satisfy even the most seasoned reader.
"Some writers have it, and some don't.  CJ Tudor has it big time – The Hiding Place is terrific in every way." –LEE CHILD
 
"With The Hiding Place, CJ Tudor has proven that she is a true master at creating perfectly dark, highly propulsive, and tightly coiled mysteries that are utterly impossible to put down. From page one, the reader is pulled in with a gathering sense of dread, and taken on an addictive, thrilling ride to the very last page." –AIMEE MOLLOY, New York Times Bestselling author of The Perfect Mother

Purchase Links
About C.J. Tudor
C. J. TUDOR is the author of The Chalk Man, and lives in Nottingham, England, with her partner and three-year-old daughter. Over the years she has worked as a copywriter, television presenter, voice-over, and dog walker. She is now thrilled to be able to write full-time, and doesn't miss chasing wet dogs through muddy fields all that much.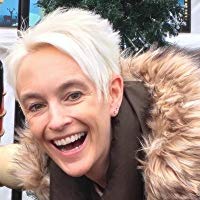 Connect with C.J.
C. J. Tudor's TLC Book Tours TOUR STOPS:
Monday, January 28th: Books & Bindings
Tuesday, January 29th: Books Before Bedtime and @booksbeforebedtime
Wednesday, January 30th: Palmer's Page Turners
Thursday, January 31st: Jessicamap Reviews and @jessicamapreviews
Friday, February 1st: No More Grumpy Bookseller
Monday, February 4th: Patricia's Wisdom
Tuesday, February 5th: @outofthebex
Wednesday, February 6th: Bewitched Bookworms
Friday, February 8th: Thoughts from a Highly Caffeinated Mind
Monday, February 11th: Novel Gossip and @novelgossip
Tuesday, February 12th: Erica Robyn Reads
Wednesday, February 13th: @scaredstraightreads
Thursday, February 14th: From the TBR Pile
Sunday, February 17th: Rockin' Book Reviews
Monday, February 18th: @wherethereadergrows
Monday, February 18th: Girl Who Reads
Wednesday, February 20th:  @prose_and_palate
Wednesday, February 20th: Kahakai Kitchen
Thursday, February 21st: Book by Book
Monday, February 25th: @hotcocoareads
Wednesday, February 27th: Booktimistic and @booktimistic
Thursday, February 28th: Midwest Ladies Who Lit
Monday, March 4th: Book Fidelity
Tuesday, March 5th: Write Read Life
Wednesday, March 6th: Wining Wife