Join us for an Instagram tour for
File Size: 1433 kb
Publisher: Lyrical Shine (December 11, 2018)
She wants to leave Nugget behind, he's just made it his home. Sometimes love is worth throwing plans—and caution—to the wind . . .
 
Raylene Rosser is Nugget's most infamous prodigal daughter. The townspeople aren't exactly holding a welcome home parade when she returns, but that's okay with Raylene—she's only here to make amends for selfish mistakes, sell her property, and get out of town asap after her half-brother Logan's wedding. Picturesque Nugget is her past, and Raylene is determined to build a future . . .
All of which would be easier if Logan hadn't asked his business partner to keep an eye on her. A security specialist, Gabe Moretti certainly knows how to shadow a girl—and how to boss said girl around. It would be infuriating, if only Raylene could keep her eyes off Gabe's broad chest, rugged profile, and sexy smile. Falling in love might not be the safe choice, but sometimes everyone needs to tempt fate . . .

Purchase Links
About Stacy Finz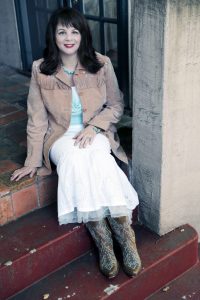 Stacy Finz is a New York Times and USA Today bestselling author of contemporary romance. After more than twenty years covering notorious serial killers, naked-tractor-driving farmers, fanatical foodies, aging rock stars and weird Western towns as a newspaper reporter, she figured she finally had enough material to launch a career writing fiction. She is the author of the Nugget Romance series (Kensington/Lyrical Press), the Garner Brothers Series (Kensington/Zebra) and the upcoming Dry Creek Ranch series. She lives in Northern California with her husband.
Connect with Stacy
.
Instagram tour schedule:
Monday, December 10th: @sarahandherbookshelves
Tuesday, December 11th: @_ebl_inc
Wednesday, December 12th: @addlebrained_reader
Wednesday, December 12th: @bookish_4_life
Thursday, December 13th: @brittanysreads
Thursday, December 13th: @thebooklover16
Friday, December 14th: @suey_library
Saturday, December 15th: @mixed_matched_socks
Tuesday, December 18th: @jesssiereads
TOUR REPLAY: @tlcbooktours