About The Lighthouse Keeper's Daughter
• Paperback: 416 pages
• Publisher: William Morrow Paperbacks (October 9, 2018)
From The New York Times bestselling author of The Girl Who Came Home comes a historical novel inspired by true events, and the extraordinary female lighthouse keepers of the past two hundred years.
"They call me a heroine, but I am not deserving of such accolades. I am just an ordinary young woman who did her duty."
1838: Northumberland, England. Longstone Lighthouse on the Farne Islands has been Grace Darling's home for all of her twenty-two years. When she and her father rescue shipwreck survivors in a furious storm, Grace becomes celebrated throughout England, the subject of poems, ballads, and plays. But far more precious than her unsought fame is the friendship that develops between Grace and a visiting artist. Just as George Emmerson captures Grace with his brushes, she in turn captures his heart.
1938: Newport, Rhode Island. Nineteen-years-old and pregnant, Matilda Emmerson has been sent away from Ireland in disgrace. She is to stay with Harriet, a reclusive relative and assistant lighthouse keeper, until her baby is born. A discarded, half-finished portrait opens a window into Matilda's family history. As a deadly hurricane approaches, two women, living a century apart, will be linked forever by their instinctive acts of courage and love.
Social Media
Please use the hashtag #thelighthousekeepersdaughter and tag @hazelgaynor, @williammorrowbooks, and @tlcbooktours.

Purchase Links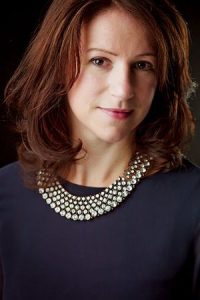 About Hazel Gaynor
HAZEL GAYNOR is the New York Times and USA Today bestselling author of A Memory of Violets and The Girl Who Came Home, for which she received the 2015 RNA Historical Novel of the Year award. Her third novel, The Girl from the Savoy, was an Irish Times and Globe & Mail Canada bestseller, and was shortlisted for the BGE Irish Book Awards Popular Fiction Book of the Year. In 2017, she has published The Cottingley Secret and Last Christmas in Paris. Hazel was selected by US Library Journal as one of 'Ten Big Breakout Authors' for 2015 and her work has been translated into several languages. Hazel lives in Ireland with her husband and two children.
Find out more about Hazel at her website, and connect with her on Facebook, Instagram, and Twitter.
Instagram Features
Tuesday, October 9th: Instagram: @lavieestbooks
Wednesday, October 10th: Instagram: @kate.olson.reads
Thursday, October 11th: Instagram: @sarahs_reads
Friday, October 12th: Instagram: @shereadswithcats
Sunday, October 14th: Instagram: @simplykelina
Monday, October 15th: Instagram: @dropandgivemenerdy
Review Stops
Tuesday, October 9th: BookNAround
Wednesday, October 10th: bookchickdi
Thursday, October 11th: A Chick Who Reads
Friday, October 12th: 5 Minutes For Books
Tuesday, October 16th: I Wish I Lived in a Library
Wednesday, October 17th: 100 Pages a Day…Stephanie's Book Reviews
Thursday, October 18th: Man of La Book
Monday, October 22nd: Jenn's Bookshelves
Tuesday, October 23rd: Books and Bindings
Wednesday, October 24th: Broken Teepee
Thursday, October 25th: Staircase Wit
Monday, October 29th: Reading Reality
Tuesday, October 30th: Thoughts From a Highly Caffeinated Mind
Thursday, November 1st: Kahakai Kitchen
Friday, November 2nd: Into the Hall of Books
Monday, November 5th: Doing Dewey