Join us for an Instagram tour for
Hardcover: 480 Pages
Publisher: Atria/Emily Bestler Books (December 4, 2018)
From the instant #1 New York Times bestselling author of the "eerie and fascinating" (USA TODAY) The Thirteenth Tale comes a richly imagined, powerful new novel about how we explain the world to ourselves, ourselves to others, and the meaning of our lives in a universe that remains impenetrably mysterious.
On a dark midwinter's night in an ancient inn on the river Thames, an extraordinary event takes place. The regulars are telling stories to while away the dark hours, when the door bursts open on a grievously wounded stranger. In his arms is the lifeless body of a small child. Hours later, the girl stirs, takes a breath and returns to life. Is it a miracle? Is it magic? Or can science provide an explanation? These questions have many answers, some of them quite dark indeed.
Those who dwell on the river bank apply all their ingenuity to solving the puzzle of the girl who died and lived again, yet as the days pass the mystery only deepens. The child herself is mute and unable to answer the essential questions: Who is she? Where did she come from? And to whom does she belong? But answers proliferate nonetheless.
Three families are keen to claim her. A wealthy young mother knows the girl is her kidnapped daughter, missing for two years. A farming family reeling from the discovery of their son's secret liaison, stand ready to welcome their granddaughter. The parson's housekeeper, humble and isolated, sees in the child the image of her younger sister. But the return of a lost child is not without complications and no matter how heartbreaking the past losses, no matter how precious the child herself, this girl cannot be everyone's. Each family has mysteries of its own, and many secrets must be revealed before the girl's identity can be known.
Once Upon a River is a glorious tapestry of a book that combines folklore and science, magic and myth. Suspenseful, romantic, and richly atmospheric, the beginning of this novel will sweep you away on a powerful current of storytelling, transporting you through worlds both real and imagined, to the triumphant conclusion whose depths will continue to give up their treasures long after the last page is turned.

Purchase Links
About Diane Setterfield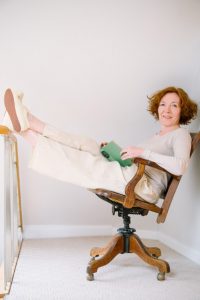 Diane Setterfield is a British author. Her debut novel, The Thirteenth Tale (2006) was published in 38 countries worldwide and has sold more than three million copies. It was number one in the New York Times hardback fiction list for three weeks and is enjoyed as much for being 'a love letter to reading' as for its mystery and style. Her second novel is Bellman & Black (2013), an unusual genre-defying meditation on workaholism, Victorian mourning ritual and rooks, and her third, Once Upon a River, will be published in early 2019.
Born in rural Berkshire, Diane spent most of her childhood in the village of Theale. After schooldays at Theale Green, Diane studied French Literature at the University of Bristol. Her PhD was on autobiographical structures in André Gide's early fiction. She taught English at the Institut Universitaire de Technologie and the Ecole nationale supérieure de Chimie, both in Mulhouse, France, and later lectured in French in the UK. She left academia in the late 1990s to pursue writing.
The Thirteenth Tale was acquired by Heyday Films and adapted for television by the award-winning playwright and scriptwriter, Christopher Hampton. Starring Vanessa Redgrave and Olivia Colman, it was filmed in North Yorkshire and broadcast by BBC2 in 2013.
Diane now lives in Oxford by the Thames. When not writing she reads widely, and when not actually reading she is usually talking or thinking about reading. She is, she says, 'a reader first, a writer second.'
Connect with Diane
Instagram Tour Stops
Monday, December 3rd: @outofthebex
Monday, December 3rd: @bookpairings
Tuesday, December 4th: @prose_and_palate
Tuesday, December 4th: @wherethereadergrows
Wednesday, December 5th: @foldedpagesdistillery
Wednesday, December 5th: @readforevermore
Thursday, December 6th: @jennblogsbooks
Friday, December 7th: @thebookferret
Friday, December 7th: @dropandgivemenerdy
Saturday, December 8th: @worldswithinpages
Sunday, December 9th: @spinatale
Sunday, December 9th: @_ebl_inc_
Monday, December 10th: @everlasting.charm
Monday, December 10th: @somekindofalibrary
Tuesday, December 11th: @thecityofdarkclockwork
Tuesday, December 11th: @createexploreread
Wednesday, December 12th: @theshybooks
Wednesday, December 12th: @whatmeganreads
Thursday, December 13th: @bibliotrix.lestrange
Friday, December 14th: @read.write.coffee
Saturday, December 15th: @ladyofthelibrary
Sunday, December 16th: @librarycutie
TOUR REPLAY: @tlcbooktours