About The Stylist
• Paperback: 400 pages
• Publisher: William Morrow Paperbacks (September 4, 2018)
In the tradition of The Devil Wears Prada comes Rosie Nixon's debut novel, which follows a young woman who is thrown into the fast-paced world of fashion and glamour as she's forced to navigate the treacherous Hollywood red carpets…while finding a fairytale love of her own.
"A stylish, fun read, I absolutely loved it!"—Jackie Collins
Amber Green loves working at Smith's, London's ultra-exclusive boutique frequented by everyone who's anyone, including Mona Armstrong, the stylist to the stars. She is fierce, demanding, and can make or break a career with a snap of her manicured nails.
When Mona's latest assistant walks out and with awards season arriving faster than you can say "Rodeo Drive", Amber finds herself agreeing to work for one of the most infamous—and volatile—women in Hollywood. And the stars aren't much better. Amber's life is turned inside out as she becomes familiar with all Hollywood has to offer, on and off the red carpet.
As she begins to enjoy life in the dressing rooms of the hottest stars, Amber discovers she's the one in the spotlight when she catches the attention of two very different men. But Mona's behavior is growing increasingly erratic and unless Amber can out-style everyone in Hollywood, she's in danger of being Mona's latest fashion victim.
Social Media
Please use the hashtag #thestylist and tag @williammorrowbooks, @rosiejnixon, and @tlcbooktours on your Instagram posts.

Purchase Links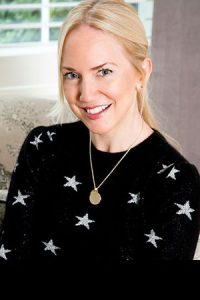 About Rosie Nixon
Rosie Nixon is Editor-in-Chief of HELLO! where she has worked for the past eight years and has a love of all things celebrity, royal and fashion-related. Rosie previously held senior positions at glossy women's magazines including Grazia, Glamour and Red. In her career she has been lucky enough to attend a multitude of glamorous award ceremonies, premieres and showbiz weddings all around the world. Ever discreet and protective of the big stars she has worked with, Rosie's experience has undoubtedly enabled her to write her debut novel, The Stylist, and the sequel, Amber Green Takes Manhattan.
Follow Rosie on Twitter and Instagram.
Instagram Features
Sunday, September 9th: Instagram: @kate.olson.reads
Monday, September 10th: Instagram: @sarahs_reads
Friday, September 14th: Instagram: @brookesbooksandbrews
Saturday, September 15th: Instagram: @simplykelina
Sunday, September 16th: Instagram: @reading.wanderwoman
Thursday, September 27th: Instagram: @_ebl_inc_
Review Stops
Monday, September 10th: A Chick Who Reads
Tuesday, September 11th: Instagram: @writersdream
Thursday, September 20th: A Bookish Way of Life
Monday, September 24th: Instagram: @reading.betweenthewines
Tuesday, September 25th: Thoughts From a Highly Caffeinated Mind
Wednesday, September 26th: The Desert Bibliophile
Thursday, September 27th: Instagram: @thepagesinbetween
Friday, September 28th: Instagram: @notthepathtonarnia
Saturday, September 29th: Books and Bindings
Tuesday, October 2nd: Wining Wife