Join us for the Instagram tour for
Pages: 380 Pages
Publisher: Entangled: Teen (November 6, 2018)
1898, London. Saverio, a magician's apprentice, is tasked with stealing another magician's secret behind his newest illusion. He befriends the man's apprentice, Thomas, with one goal. Get close. Learn the trick. Get out.
Then Sav discovers that Thomas performs real magic and is responsible for his master's "illusions." And worse, Sav has unexpectedly fallen for Thomas.
Their forbidden romance sets off a domino effect of dangerous consequences that could destroy their love—and their lives.

Purchase Links
About Madeline J Reynolds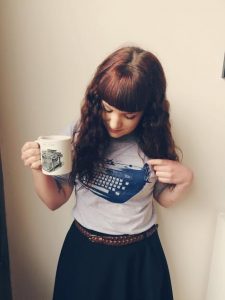 Madeline (Maddie) Reynolds is a YA fantasy author based out of Chicago. Originally born and raised in Minnesota, she relocated to Chicago to pursue a career in writing and fell in love with the city almost instantaneously.
She began attending Columbia College Chicago, where she majored in Journalism with a focus in magazine writing & editing. She gained experience writing for various blogs and online magazines as a music journalist; covering live shows around the city, reviewing albums, interviewing artists, etc. but her true passion was always in storytelling.
Ever since rediscovering her love of fiction writing, she has been very active in Chicago's literary community, taking various classes and workshops at StoryStudio in the Ravenswood neighborhood, volunteering at StoryStudio, joining a fantastic writing group centered around speculative fiction, attending the Chicago Writers Conference, etc.
When she isn't writing, she can be found exploring the city, spending time with her loving and supportive boyfriend, going out to see live music, eating Thai food, or lost in an epic Lord of the Rings marathon.
Connect with Madeline
Instagram tour:
Monday, November 5th: @tlcbooktours – Giveaway
Monday, November 5th: @theshybooks
Tuesday, November 6th: @_ebl_inc_
Tuesday, November 6th: @novelgrounds
Wednesday, November 7th: @thecityofdarkclockwork
Thursday, November 8th: @bibliotrix.lestrange
Friday, November 9th: @dropandgivemenerdy
Saturday, November 10th: @amberafterglowreads
Sunday, November 11th: @bookishwinterwitch
Monday, November 12th: @readforevermore
Tuesday, November 13th: @bookishconnoisseur
Wednesday, November 14th: @librarycutie
Thursday, November 15th: @jennblogsbooks
Tuesday, December 11th: @TLCBookTours TOUR REPLAY