To get your book club in the mood for the holidays, we have gathered up some wonderful titles for this special CHRISTMAS IS COMING book club giveaway!
______________________________________________
Stories of love to warm your heart!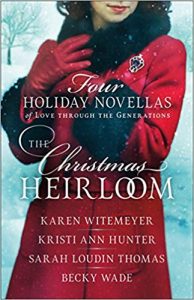 The Christmas Heirloom: Four Holiday Novellas of Love through the Generations by Karen Witemeyer, Kristi Ann Hunter, Sarah Loudin Thomas, and Becky Wade
In Kristi Ann Hunter's "Legacy of Love," Sarah Gooding never suspected returning a brooch to an elderly woman would lead to a job . . . and introduce her to the woman's grandson, a man far above her station.
In Karen Witemeyer's "Gift of the Heart," widow Ruth Albright uses the family brooch as collateral for a loan from the local banker. But the more she comes to know the man behind the stern businessman, the more she hopes for a second chance at love.
In Sarah Loudin Thomas's "A Shot at Love," Fleeta Brady's rough-and-tumble childhood means she prefers hunting to more feminine activities. She never expected her family's brooch might be how a fellow hunter turns her attention from competition to romance.
In Becky Wade's "Because of You," Maddie Winslow has spent years in love with a man whose heart was already spoken for. When a church Christmas project brings them together and she stumbles upon an old family brooch, might it finally be her turn for love?

Purchase Links
______________________________________________
It's Christmas in Gold Valley, and this wounded widower is about to get another shot at love…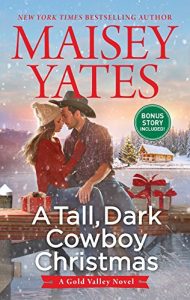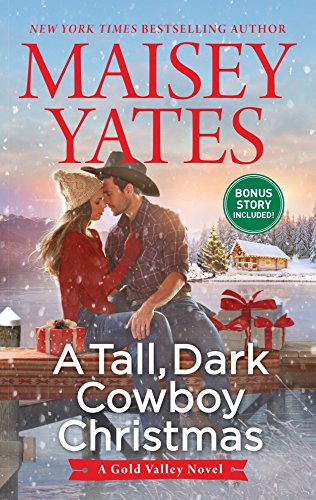 A Tall, Dark Cowboy Christmas by Maisey Yates
Grant Dodge didn't expect to find a woman sleeping in an abandoned cabin on his family ranch. Or to find her so intriguing. Unlike every other woman in town, McKenna Tate doesn't know Grant's a widower. There's no pity in the looks she gives him. McKenna wants him, and Grant has forgotten what it's like to feel like a man. A no-strings fling for Christmas might be the kind of holiday cheer Grant needs…
With only a suitcase to her name, McKenna came to Gold Valley to confront her birth father. She didn't plan to work at the Dodge ranch or fall for the gorgeous cowboy who keeps his heart roped off. But there's no denying the way their broken pieces fit together. Hope brought her to Gold Valley—but will it be the gift that could finally heal Grant, and McKenna's own wounded heart?
Also includes a bonus Gold Valley novella, Snowed in with the Cowboy!

Purchase Links
______________________________________________
A small-town Texas Christmas story, where hearts are lost, love is found, and family always brings you back home.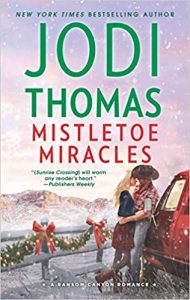 Griffin Holloway is desperate: the Maverick Ranch has been in his family for generations, but lately, it's a money pit. He'd sooner marry one of his horses than sell the ranch. Marriage, though, could be a solution. If he can woo a wealthy bride, he might save the ranch—just in time for Christmas.
Jaxon O'Grady likes his solitude just fine, thank you very much. But when a car accident brings the unexpected to his door, he realizes just how much one person can need another.
Crossroads is the perfect place for Jamie Johnson: avoiding nosy questions about why she's single, she's happy to keep to her lakeside home. So she's baffled when she gets the strangest Christmas present of all, in the form of a Mr. Johnson, asleep on her sofa. Who is he, and why does everyone think he's her husband?
In this uplifting novel, three unlikely couples discover just what Crossroads, Texas, can offer: romance, belonging, and plenty of Christmas spirit.

Purchase Links
______________________________________________
A formidable matriarch learns the hard way that no family is perfect in this witty, sparkling debut novel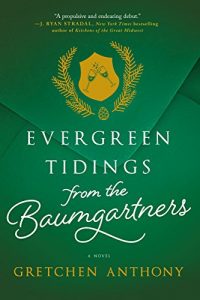 Evergreen Tidings from the Baumgartners by Gretchen Anthony
Dearest loved ones, far and near—evergreen tidings from the Baumgartners!
Violet Baumgartner has opened her annual holiday letter the same way for the past three decades. And this year she's going to throw her husband, Ed, a truly perfect retirement party, one worthy of memorializing in her upcoming letter. But the event becomes a disaster when, in front of two hundred guests, Violet learns her daughter Cerise has been keeping a shocking secret from her, shattering Violet's carefully constructed world.
In an epic battle of wills, Violet goes to increasing lengths to wrest back control of her family, infuriating Cerise and snaring their family and friends in a very un-Midwestern, un-Baumgartner gyre of dramatics. And there will be no explaining away the consequences in this year's Baumgartner holiday letter…
Full of humor, emotion and surprises at every turn, Evergreen Tidings from the Baumgartners brings to life a remarkable cast of quirky, deeply human characters who must learn to adapt to the unconventional, or else risk losing one another. This is the story of a family falling to pieces—and the unexpected way they put it all back together.

Purchase Links
______________________________________________

Please fill out our super short registration form (click the "Enter Now" button above) by September 30th for a chance to win a set of up to ten copies of one of these great books for your book club! We will randomly choose a winner at the end of the month. This contest is open to clubs in the US only (our apologies to friends in other countries). 
.
Best of luck!
We 
LOVE

 Book Clubs!