About The Mystery of Three Quarters
• Hardcover: 368 pages
• Publisher: William Morrow (August 28, 2018)
The world's most beloved detective, Hercule Poirot—the legendary star of Agatha Christie's Murder on the Orient Express and most recently The Monogram Murders and Closed Casket—returns in a stylish, diabolically clever mystery set in the London of 1930.
"We Agatha Christie fans read her stories–and particularly her Poirot novels–because the mysteries are invariably equal parts charming and ingenious, dark and quirky and utterly engaging. Sophie Hannah had a massive challenge in reviving the beloved Poirot, and she met it with heart and no small amount of little grey cells. I was thrilled to see the Belgian detective in such very, very good hands. Reading The Monogram Murders was like returning to a favorite room of a long-lost home."
— Gillian Flynn, author of Gone Girl
Hercule Poirot returns home after an agreeable luncheon to find an angry woman waiting to berate him outside his front door. Her name is Sylvia Rule, and she demands to know why Poirot has accused her of the murder of Barnabas Pandy, a man she has neither heard of nor ever met. She is furious to be so accused, and deeply shocked. Poirot is equally shocked, because he too has never heard of any Barnabas Pandy, and he certainly did not send the letter in question. He cannot convince Sylvia Rule of his innocence, however, and she marches away in a rage.
Shaken, Poirot goes inside, only to find that he has a visitor waiting for him — a man called John McCrodden who also claims also to have received a letter from Poirot that morning, accusing him of the murder of Barnabas Pandy…
Poirot wonders how many more letters of this sort have been sent in his name. Who sent them, and why? More importantly, who is Barnabas Pandy, is he dead, and, if so, was he murdered? And can Poirot find out the answers without putting more lives in danger?
Social Media
Please use the hashtag #themysteryofthreequarters, #agathachristie, and #herculepoirot, and tag @williammorrowbooks and @tlcbooktours.

Purchase Links
About Agatha Christie
Agatha Christie is the most widely published author of all time, outsold only by the Bible and Shakespeare. Her books have sold more than a billion copies in English and another billion in a hundred foreign languages. She died in 1976.
Learn more about Agatha Christie through her official website.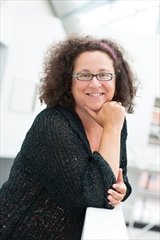 About Sophie Hannah
Sophie Hannah is the New York Times bestselling author of numerous psychological thrillers, including Woman with a Secret, as well as The Monogram Murders and Closed Casket, the first novels to be authorized by the estate of Agatha Christie. Her books have received numerous awards, including a UK National Book Award, and are published in forty-nine countries. She lives in Cambridge, England.
Connect with Sophie Hannah through her website, or follow her on Facebook, Instagram, or Twitter.
Instagram Features
Tuesday, August 28th: Instagram: @shereadswithcats
Tuesday, September 11th: Instagram: @biblio_files
Wednesday, September 12th: Instagram: @the_need_to_read
Thursday, September 13th: Instagram: @diaryofaclosetreader
Thursday, September 13th: Instagram: @jessicamap
Monday, September 17th: Instagram: @lavieestbooks
Tuesday, September 18th: Instagram: @reading.betweenthewines
Friday, September 21st: Instagram: @jackiereadsbooks
Saturday, September 29th: Instagram: @notthepathtonarnia
Review Stops
Tuesday, August 28th: Reading Reality
Wednesday, September 12th: Thoughts From a Highly Caffeinated Mind
Thursday, September 13th: Write – Read – Life
Friday, September 14th: Jessicamap Reviews
Monday, September 17th: I Wish I Lived in a Library
Tuesday, September 18th: 5 Minutes For Books
Wednesday, September 19th: Instagram: @jennblogsbooks
Thursday, September 20th: Instagram: @brookesbooksandbrews
Friday, September 28th: Staircase Wit
Friday, September 28th: A Bookish Way of Life