Join us for the Instagram tour for
Hardcover: 384 Pages
Publisher: Harlequin Teen; Original edition (November 13, 2018)
In 1955, eighteen-year-old Janet Jones keeps the love she shares with her best friend Marie a secret. It's not easy being gay in Washington, DC, in the age of McCarthyism, but when she discovers a series of books about women falling in love with other women, it awakens something in Janet. As she juggles a romance she must keep hidden and a newfound ambition to write and publish her own story, she risks exposing herself—and Marie—to a danger all too real.
Sixty-two years later, Abby Zimet can't stop thinking about her senior project and its subject—classic 1950s lesbian pulp fiction. Between the pages of her favorite book, the stresses of Abby's own life are lost to the fictional hopes, desires and tragedies of the characters she's reading about. She feels especially connected to one author, a woman who wrote under the pseudonym "Marian Love," and becomes determined to track her down and discover her true identity.
In this novel told in dual narratives, New York Times bestselling author Robin Talley weaves together the lives of two young women connected across generations through the power of words. A stunning story of bravery, love, how far we've come and how much farther we have to go.

Purchase Links
About Robin Talley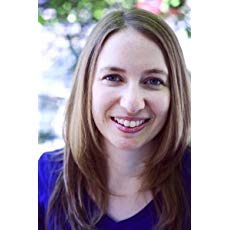 Robin Talley's first novel, Lies We Tell Ourselves (Harlequin Teen, 2014), about two girls on the front lines of the school desegregation battle in 1959 Virginia, was on the short list for the CILIP Carnegie Medal and a finalist for the Lambda Literary Award. Her second young adult novel, What We Left Behind (Harlequin Teen, 2015), a contemporary story about love and identity, was called a "must-read" in a starred review from School Library Journal. Her newest novel, As I Descended (Harper Teen, September 2016), is a retelling of Macbeth centering around a girl/girl couple who set out to take down their boarding school's resident queen bee. In a starred review, Kirkus said, "This adaptation's bewitching intrigues and enthralling deceptions will whet the daggers of any reader's mind." Robin lives in Washington, D.C., with her wife and their daughter, plus an antisocial cat and a goofy hound dog.
Connect with Robin
Website | Facebook | Twitter | Instagram
Instagram Tour:
Monday, November 12th: @read.write.coffee
Monday, November 12th: @ladyofthelibrary
Tuesday, November 13th: @booksandlala
Wednesday, November 14th: @dropandgivemenerdy
Wednesday, November 14th: @180_looks_with_books
Wednesday, November 14th: @fictionalflowerday
Thursday, November 15th: @wildandwonderfulreads
Thursday, November 15th: @thebookishsisters
Friday, November 16th: @_ebl_inc_
Saturday, November 17th: @pnwbookworm
Saturday, December 15th: @TLCBookTours TOUR REPLAY