Join us for the Instagram tour for
Mass Market Paperback: 400 Pages
Publisher: Carina Press; Original edition (October 30, 2018)
When the hunter is your mate, being prey is anything but terrifying
Coyote shifter Tate Allen has been watching. Learning his mate every possible way before he moves in. Protecting her through the night, always from afar.
He'll be the one to teach her about her gifts. He'll be there when she changes for the first time.
With him, she'll fulfill her destiny.
Elise Ralston loves Tate for the patience he's shown. The faith he's demonstrated—denying himself what he needs sexually, even as he teaches her about pleasure.
For Tate, Elise is willing to try. To revel in touch, to give him control…and to embrace her healer's need.
But someone unknown is still stalking the clan, threatening more than Tate and Elise's bond. And Elise is a prime target—precious for the magic she hasn't even learned yet.

Purchase Links
About Rhenna Morgan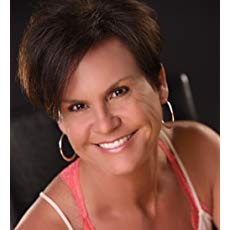 A native Oklahoman, Rhenna Morgan is a certified romance junkie. Whether it's contemporary, paranormal, or fantasy you're after, Rhenna's stories pack romantic escape full of new, exciting worlds, and strong, intuitive men who fight to keep the women they want. For advance release news and exclusive content, sign up for her newsletter at RhennaMorgan.com. You'll also find all of her social  links there, along with her smoking hot inspiration boards.
Connect with Rhenna
Instagram tour stops
Monday, October 22nd: @booknerdingout
Monday, October 22nd: @book_hangover88
Tuesday, October 23rd: @novelgrounds
Tuesday, October 23rd: @addicted_to_reading_
Wednesday, October 24th: @moonlight_rendezvous
Thursday, October 25th: @utcbookblog
Thursday, October 25th: @jessiereads
Thursday, October 25th: @girlandherbooks
Friday, October 26th: @remarkablylisa
Saturday, October 27th: @suey_library
Sunday, October 28th: @radbabesread