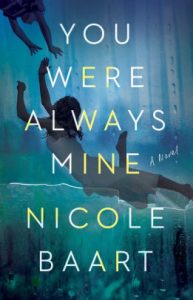 Hardcover: 384 Pages
Publisher: Atria Books (October 16, 2018)
The acclaimed author of Little Broken Things returns with another "race-to-the-finish family drama" (People) about a single mother who becomes embroiled in a mystery that threatens to tear apart what's left of her family.
Jessica Chamberlain, newly separated and living with her two sons in a small Iowa town, can't believe that a tragedy in another state could have anything to do with her. But when her phone rings one quiet morning, her world is shattered. As she tries to pick up the pieces and make sense of what went wrong, Jess begins to realize that a tragic death is just the beginning. Soon she is caught in a web of lies and half-truths—and she's horrified to learn that everything leads back to her seven-year-old adopted son, Gabriel.
Years ago, Gabe's birth mother requested a closed adoption and Jessica was more than happy to comply. But when her house is broken into and she discovers a clue that suggests her estranged husband was in close contact with Gabe's biological mother, she vows to uncover the truth at any cost. A harrowing story of tenacious love and heartbreaking betrayal, You Were Always Mine is about the wars we wage to keep the ones we love close, perfect for fans of Liane Moriarty and Jodi Picoult.
"Tense, emotionally-charged, and at times frightening, You Were Always Mine opened my eyes to the dark side of adoption.  With characters that are true to life and a tremendous depth of knowledge into a shocking subject matter, this is Baart's best book yet.  Completely engrossing!"–Mary Kubica, New York Times bestselling author of The Good Girl
"Mothers everywhere will recognize and celebrate the fierce, imperfect strength of Jessica Chamberlain as she tries to parent her sons—one birthed and one adopted—in the wake of her estranged husband's death. A startlingly authentic mix of suspense, grief, and family drama, You Were Always Mine reconstructs the pieces of a shattered life to reveal the darkness that destroyed it. You will never look at adoption the same way again."–Mindy Mejia, author of Everything You Want Me To Be and Leave No Trace

Purchase Links
About Nicole Baart
Nicole Baart is the mother of five children from four different countries. The cofounder of a non-profit organization, One Body One Hope, she lives in a small town in Iowa. Her books have been featured in Southern Living, Country Woman, Book Page, Glam, Brit & Co., and on Yahoo Lifestyle, and her latest release, Little Broken Things, was a People Magazine Editor's Pick. Nicole is the author of nine critically acclaimed novels, including You Were Always Mine (available 10/16/18 from Atria Books).
Connect with Nicole
Nicole Baart's TLC Book Tours TOUR STOPS
Tuesday, October 16th: Palmer's Page Turners
Wednesday, October 17th: Bewitched Bookworms
Monday, October 22nd: Literary Quicksand
Tuesday, October 23rd: That's What She Read and @thats_what_she_read
Wednesday, October 24th: @bookpairings
Friday, October 26th: Eliot's Eats
Monday, October 29th: Amy's Book-et List
Tuesday, October 30th: Girl Who Reads
Thursday, November 1st: Books and Bindings
Monday, November 5th: Booktimistic and @booktimistic
Wednesday, November 7th: Fiction Aficionado
Thursday, November 8th: Girls in Books and @girlsinbooks
Monday, November 12th: Kritter's Ramblings
Wednesday, November 14th: @wherethereadergrows