About Under a Dark Sky
• Paperback: 416 pages
• Publisher: William Morrow Paperbacks (August 7, 2018)
"Fans of Agatha Christie's And Then There Were None will be riveted by Rader-Day's latest psychological thriller, which makes you question who you really know and trust and whether you should be afraid of the dark."—Library Journal,Starred Review
"A brilliant concept, brilliantly told!" –Jeffery Deaver, New York Times Bestselling Author
Only in the dark can she find the truth . . .
Since her husband died, Eden Wallace's life has diminished down to a tiny pinprick, like a far-off star in the night sky. She doesn't work, has given up on her love of photography, and is so plagued by night terrors that she can't sleep without the lights on. Everyone, including her family, has grown weary of her grief. So when she finds paperwork in her husband's effects indicating that he reserved a week at a dark sky park, she goes. She's ready to shed her fear and return to the living, even if it means facing her paralyzing phobia of the dark.
But when she arrives at the park, the guest suite she thought was a private retreat is teeming with a group of twenty-somethings, all stuck in the orbit of their old college friendships. Horrified that her get-away has been taken over, Eden decides to head home the next day. But then a scream wakes the house in the middle of the night. One of the friends has been murdered. Now everyone—including Eden—is a suspect.
Everyone is keeping secrets, but only one is a murderer. As mishaps continue to befall the group, Eden must make sense of the chaos and lies to evade a ruthless killer—and she'll have to do it before dark falls…
Social Media
Please use the hashtag #underadarksky and tag @williammorrowbooks, @loriraderday, and @tlcbooktours on Instagram, and @wmmorrowbooks, @loriraderday, and @tlcbooktours on Twitter.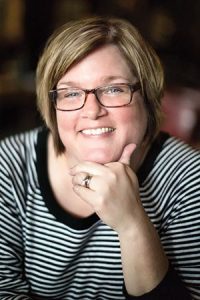 Purchase Links
About Lori Rader-Day
Lori Rader-Day is the author of Under a Dark Sky, The Day I Died, Little Pretty Things, and The Black Hour. She is a three-time Mary Higgins Clark Award nominee, winning the award in 2016. Lori lives in Chicago.
Find out more about Lori at her website, and connect with her on Instagram, Facebook, and Twitter.
Instagram Features
Tuesday, August 7th: Instagram: @_ebl_inc_
Wednesday, August 8th: Instagram: @read.write.coffee
Thursday, August 9th: Instagram: @brookesbooksandbrews
Saturday, August 11th: Instagram: @jenabrownwrites
Monday, August 13th: Instagram: @notthepathtonarnia
Review Stops
Wednesday, August 8th: Wall-to-Wall Books
Thursday, August 9th: As I turn the pages
Friday, August 10th: A Bookish Way of Life
Wednesday, August 15th: Ms. Nose in a Book
Thursday, August 16th: No More Grumpy Bookseller
Friday, August 17th: 5 Minutes For Books
Monday, August 20th: Thoughts From a Highly Caffeinated Mind
Tuesday, August 21st: Instagram: @shereadswithcats
Wednesday, August 22nd: Jessicamap Reviews
Thursday, August 23rd: From the TBR Pile
Friday, August 24th: Instagram: @wherethereadergrows