Join us for the Instagram tour for
Hardcover: 237 Pages
Publisher: Skyscape (November 1, 2018)
From the author of The Odds of Loving Grover Cleveland comes a hilarious and heartbreaking novel about coming apart, getting it together—and moving on. It's just a two-hour drive…
Pondering math problems is Esther Ainsworth's obsession. If only life's puzzles required logic. Her stepfather's solution? Avoidance. He's exiled the family to Truth or Consequences, New Mexico, to erase a big secret from Esther's past. So much for the truth. Now for the consequences: an empty swimming pool, a water-sucking cactus outside her window, a goldfish rescued from a church festival, and Esther's thirst for something real.
Step one: forget about her first love. Step two: make allies. Esther finds them in Jesús from the local coffee bar; a girl named Color who finds beauty in an abandoned video store; Beth, the church choir outcast; and Moss, a boy with alluring possibilities. Step three: confess her secret to those she hopes she can trust. Esther's new friends do more than just listen. They're taking Esther one step further.
Together, they hit the road to face Esther's past head-on. It's a journey that will lead her to embrace her own truth—in all its glory, pain, and awesomeness.

Purchase Links
 About Rebekah Crane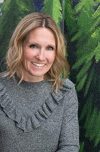 Rebekah Crane is the author of The Odds of Loving Grover Cleveland and other young-adult novels. She found a passion for this genre while studying secondary English education at Ohio University. She is a former high school English teacher, a yoga instructor, and the mother of two girls. After living and teaching in six different cities, Rebekah finally settled in the foothills of the Rocky Mountains to write novels and work on screenplays. She now spends her days tucked behind a laptop at seventy-five hundred feet, where the altitude only enhances the writing experience.
Connect with Rebekah
Instagram Tour:
Monday, October 29th: @girlsinbooks
Monday, October 29th: @read.write.coffee
Tuesday, October 30th: @bookishconnoisseur
Wednesday, October 31st: @readforevermore
Wednesday, October 31st: @wildandwonderfulreads
Wednesday, October 31st: @everlasting.charm
Thursday, November 1st: @theliteraryllama
Thursday, November 1st: @ladyofthelibrary
Friday, November 2nd: @dropandgivemenerdy
Saturday, November 3rd: @amberafterglowreads
Saturday, November 3rd: @megabunnyreads
Friday, November 2nd: @fictionalflowerday
Tuesday, December 11th: @TLCBookTours TOUR REPLAY