Join us an Instagram tour and review tour for
Paperback: 368 pages
Publisher: Park Row; Original edition (October 16, 2018)
A formidable matriarch learns the hard way that no family is perfect in this witty, sparkling debut novel
Dearest loved ones, far and near—evergreen tidings from the Baumgartners!
Violet Baumgartner has opened her annual holiday letter the same way for the past three decades. And this year she's going to throw her husband, Ed, a truly perfect retirement party, one worthy of memorializing in her upcoming letter. But the event becomes a disaster when, in front of two hundred guests, Violet learns her daughter Cerise has been keeping a shocking secret from her, shattering Violet's carefully constructed world.
In an epic battle of wills, Violet goes to increasing lengths to wrest back control of her family, infuriating Cerise and snaring their family and friends in a very un-Midwestern, un-Baumgartner gyre of dramatics. And there will be no explaining away the consequences in this year's Baumgartner holiday letter…
Full of humor, emotion and surprises at every turn, Evergreen Tidings from the Baumgartners brings to life a remarkable cast of quirky, deeply human characters who must learn to adapt to the unconventional, or else risk losing one another. This is the story of a family falling to pieces—and the unexpected way they put it all back together.

Purchase Links
About Gretchen Anthony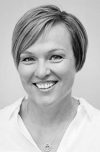 Gretchen Anthony is a Minnesota-based writer and humorist whose work has been featured on scarymommy.com, medium.com and thewritelife.com. She's also spent decades as a ghostwriter and has written for some of the best personal brands in the United States, from CEOs to doctors and start-up superstars to BBQ pros. Evergreen Tidings from the Baumgartners is her first novel.
Connect with Gretchen
Instagram tour:
Monday, October 15th: @kate.olson.reads
Tuesday, October 16th: @bookishconnoisseur
Tuesday, October 16th: @novelgossip
Wednesday, October 17th: @somekindofalibrary
Thursday, October 18th: @jessicamap
Friday, October 19th: @thebooksellersdaughter
Saturday, October 20th: @hollyslittlebookreviews
Sunday, October 21st: @bookishmadeleine
Sunday, October 21st: @jennblogsbooks
Review tour:
Monday, October 1st: Wining Wife
Tuesday, October 2nd: No More Grumpy Bookseller
Wednesday, October 3rd: Eliot's Eats
Thursday, October 4th: Caryn, the Book Whisperer
Monday, October 8th: Midwest Ladies Who Lit
Wednesday, October 10th: Diary of a Stay at Home Mom
Friday, October 12th: View from the Birdhouse
Monday, October 15th: Girl Who Reads
Wednesday, October 17th: Literary Quicksand and @literaryquicksand
Thursday, October 18th: Jessicamap Reviews and @jessicamap
Thursday, October 18th: Patricia's Wisdom
Monday, October 22nd: Novel Gossip and @novelgossip
Tuesday, October 23rd: Books & Bindings
Wednesday, October 24th: What is That Book About
Thursday, October 25th: @prose_and_palate
Friday, October 26th: Kritter's Ramblings