Join us for the Instagram tour and review tour for
Paperback: 336 Pages
Publisher: Thomas Nelson (November 6, 2018)
From the bestselling author of The Convenient Groom (now a beloved Hallmark Original movie) comes the final book in Hunter's Blue Ridge Romance series.
Pastor Jack McReady has secretly carried a torch for Daisy for two long years. She's a member of his congregation, after all, and she'll never see him as more than a trusted counselor. Jack's best friend Noah has taken every opportunity to encourage his lovesick friend, but when Noah catches wind that Daisy has joined an online dating site, he takes matters into his own hands and orchestrates a meet-cute of the most unconventional kind.
Owner of the local flower shop, Daisy Pendleton is content with her small-town life, but she'd sure like someone to share it with. After several disastrous first dates, she's about to give up—and then she finds a seemingly wonderful man online. Daisy gets to know TJ through a series of messages but finds herself spending more time with Pastor Jack outside of the church at the same time. What she doesn't know is that her online prospect and Jack are one and the same.
Just as Daisy's love life starts to look promising, a mysterious woman appears in town. Daisy is faced with a revelation about her family that turns her world upside down, and she looks to both TJ and Jack for help.
Jack must find a way to reveal himself as her online suitor without breaking her heart and losing her trust. As Daisy faces Jack's betrayal, she'll have to learn to extend grace to herself, her family, and the man she's grown to love.

Purchase Links
About Denise Hunter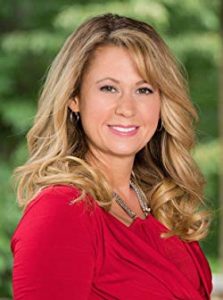 Denise Hunter is the internationally published bestselling author of more than 30 novels, including "The Convenient Groom" and "A December Bride" which have been made into Hallmark movies. She has appeared on the The 700 club and won awards such as The Holt Medallion Award, The Carol Award, The Reader's Choice Award, The Foreword Book of the Year Award, and is a RITA finalist.
Denise writes heartwarming, small-town love stories. Her readers enjoy the vicarious thrill of falling in love and the promise of a happily-ever-after sigh as they savor the final pages of her books.
In 1996, inspired by the death of her grandfather, Denise began her first book, writing while her children napped. Two years later it was published, and she's been writing ever since. Her husband says he inspires all her romantic stories, but Denise insists a good imagination helps too!
When Denise isn't orchestrating love lives on the written page, she enjoys traveling with her family, drinking good coffee, and playing drums. Denise makes her home in Indiana where she and her husband raised three boys and are currently enjoying an empty nest.
Connect with Denise
Instagram Tour Stops:
Monday, November 5th: @sarahandherbookshelves
Tuesday, November 6th: @thecaffeinated_bibliophile
Wednesday, November 7th: @rissi006
Thursday, November 8th: @jennblogsbooks
Friday, November 9th: @thesketchyreader
Saturday, November 10th: @kim_reads
Sunday, November 11th: @livethecozylife
Monday, November 12th: @_ebl_inc_
Review Tour Stops:
Monday, November 5th: Book by Book
Tuesday, November 6th: Christian Bookshelf Reviews
Wednesday, November 7th: View from the Birdhouse
Thursday, November 8th: Amy's Book-et List
Friday, November 9th: The Sketchy Reader
Monday, November 12th: The Romance Dish
Tuesday, November 13th: Blooming with Books
Wednesday, November 14th: Romantic Reads and Such
Thursday, November 15th: Christian Chick's Thoughts
Thursday, November 15th: Run Wright
Monday, November 19th: Fiction Aficionado
Tuesday, November 20th: Empowermoms
Wednesday, November 21st: From the TBR Pile
Friday, November 23rd: Kritter's Ramblings
Monday, November 26th: The Lit Bitch
Monday, November 26th: A Chick Who Reads
Tuesday, November 27th: Read Eat Repeat
Wednesday, November 28th: Black 'n Gold Girl's Book Spot
Friday, November 30th: What is That Book About
Thursday, January 10th: Jathan & Heather
Tuesday, January 15th: Splashes of Joy