Join us for an Instagram tour and review tour for
Mass Market Paperback: 480 Pages
Publisher: HQN; Original edition (November 1, 2018)
In her brand-new series, Brenda Jackson welcomes you to Catalina Cove, where even the biggest heartbreaks can be healed…
In the wake of a devastating teen pregnancy that left her childless and heartbroken, Vashti Alcindor left Catalina Cove, Louisiana, with no plans to return. Now, over a decade later, Vashti reluctantly finds herself back in her hometown after inheriting her aunt's B and B. Her homecoming gets off to a rocky start when the new sheriff, Sawyer Grisham, pulls her over for speeding, and things go downhill from there.
The B and B, a place she'd always found refuge in when it seemed like the whole world was against her, has fallen into disrepair. When a surprising benefactor encourages Vashti to reopen the B and B, Vashti embraces a fresh start, and soon old hurts begin to fade as she makes new memories with the town—and its handsome sheriff…
But some pasts are too big to escape, and when a bombshell of a secret changes everything she thought was true, Vashti is left reeling. With Sawyer and his teenage daughter determined to see her through the storm, though, she's learning family isn't always a matter of blood—sometimes it's a matter of heart.

Purchase Links
About Brenda Jackson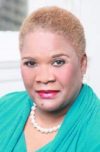 Brenda Jackson is a New York Times bestselling author of more than one hundred romance titles. Brenda lives in Jacksonville, Florida, and divides her time between family, writing and traveling.
.
Connect with Brenda
Instagram tour stops:
Monday, October 22nd: @createexploreread
Monday, October 22nd: @book_hangover 88
Tuesday, October 23rd: @girlandherbooks
Tuesday, October 23rd: @thebookishsisters
Wednesday, October 24th: @novelgrounds
Thursday, October 25th: @theliteraryllama
Thursday, October 25th: @mountain_reader_
Friday, October 26th: @pnwbookworm
Saturday, October 27th: @_ebl_inc_
Sunday, October 28th: @jennblogsbooks
Tuesday, December 11th: @TLCBookTours TOUR REPLAY
Review tour stops:
Monday, October 15th: Amy's Book-et List
Tuesday, October 16th: @bookandchinooks
Friday, October 19th: Books a la Mode – excerpt
Monday, October 22nd: The Sassy Bookster
Monday, October 22nd: From the TBR Pile
Tuesday, October 23rd: Books and Blends
Wednesday, October 24: Becky on Books
Friday, October 26th: Run Wright
Monday, October 29th: The Romance Dish
Monday, October 29th: Books and Bindings
Wednesday, October 31st: Books & Spoons
Thursday, November 1st: A Chick Who Reads
Monday, November 19th: Book Fidelity
Monday, November 19th: Really Into This