About Boardwalk Summer
• Paperback: 384 pages
• Publisher: William Morrow Paperbacks (June 19, 2018)
In this new novel from the USA Today bestselling author of The Dressmaker's Dowry, two young women two generations apart discover the joy and heartbreak of following their dreams. Aspiring Hollywood actress Violet makes a shocking choice in 1940, and seventy years later, Mari sets out to discover what happened on that long ago summer.
Santa Cruz, Summer 1940: When auburn-haired Violet Harcourt is crowned Miss California on the boardwalk of her hometown, she knows she is one step closer to her cherished dream: a Hollywood screen test. But Violet's victory comes with a price—discord in her seemingly perfect marriage—and she grapples with how much more she is willing to pay.
Summer 2007: Single mother Marisol Cruz lives with her parents in the charming beach cottage that belonged to her grandfather, Ricardo, once a famed performer on the Santa Cruz Beach Boardwalk. Drawn to the town's local history and the quaint gazebo where her grandparents danced beneath the stars, Mari sells raffle tickets at the Beach Boardwalk Centennial Celebration, and meets Jason, a California transplant from Chicago.
When Mari discovers the obituary of Violet Harcourt, a beauty queen who died too young, she and Jason are sent on a journey together that will uncover her grandfather's lifelong secret—his connection to Violet—a story of tragedy and courage that will forever transform them.
Use the hashtag #boardwalksummer and tag @meredithjaegerauthor, @williammorrowbooks, and @tlcbooktours.

Purchase Links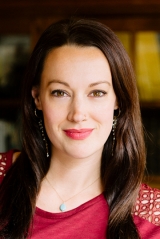 About Meredith Jaeger
USA Today bestselling author Meredith Jaeger was born and raised in the San Francisco Bay Area, the daughter of a Swiss father and an American mother. While working for a San Francisco start-up, Meredith fulfilled her dream of writing a novel, the result of which was The Dressmaker,s Dowry. Meredith lives in Alameda with her husband, their infant daughter, and their bulldog.
Find out more about Meredith at her website, and connect with her on Facebook, Twitter, and Instagram.
Tour Stops
Tuesday, June 19th: bookchickdi
Wednesday, June 20th: Reading Reality
Thursday, June 21st: Bibliotica
Friday, June 22nd: Literary Quicksand
Monday, June 25th: Instagram: @oddandbookish
Tuesday, June 26th: A Chick Who Reads
Wednesday, June 27th: Instagram: @hollyslittlebookreviews
Thursday, June 28th: Instagram: @notthepathtonarnia
Tuesday, July 3rd: BookNAround
Wednesday, July 4th: Tina Says…
Thursday, July 5th: Instagram: @writersdream