About The Paris Wedding
• Paperback: 336 pages
• Publisher: William Morrow Paperbacks; Reprint edition (June 12, 2018)
In Australian bestselling author Charlotte Nash's U.S. debut, a young woman attends her ex-boyfriend's Paris wedding and discovers more than she ever dreamed in the ultimate city of love.
Imagine you are invited to Paris, the City of Love, to witness the wedding of your first love to a woman you've never met. Would you go?
It's been ages since Rachael West has seen the man she once believed she couldn't live without. Receiving his wedding invitation was bittersweet—she was oddly touched he's asked her, but knows that facing him on this day would be the hardest thing she's ever done.
But her friends and family convince her to attend. After all, it's an all-expenses-paid trip to Paris! Surely she can get through that one day, and discover all the delights of that magical city the remainder of the time.
So Rachael leaves her small town, setting off for the City of Lights with her best friend, two feuding neighbors, and a suitcase full of home-sewn couture in tow. She's determined to let Paris work its magic—and it does by way of a handsome photojournalist. And before her adventure is over, Rachael will be faced with yet another choice. But this time, hers isn't the only happiness at risk . . . .

Purchase Links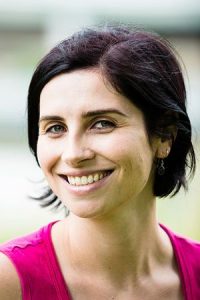 About Charlotte Nash
Charlotte Nash began stealing her mother's Jilly Cooper novels at the age of thirteen and has been enthusiastic about romance ever since. She started writing after graduating from medical school, and her romantic stories set in amazing places are now published around the world. She lives with her family and chickens in a cozy cottage on the east coast of Australia.
Find out more about Charlotte at her website, and connect with her on Twitter and Facebook.
Tour Stops
Tuesday, June 12th: Instagram: @jackiereadsbooks
Wednesday, June 13th: BookNAround
Thursday, June 14th: Stranded in Chaos
Friday, June 15th: Instagram: @megabunnyreads
Monday, June 18th: Jathan & Heather
Wednesday, June 20th: A Chick Who Reads
Monday, June 25th: Instagram: @worldswithinpages
Tuesday, June 26th: Broken Teepee
Wednesday, June 27th: Instagram: @writersdream
Thursday, June 28th: From the TBR Pile
Friday, June 29th: Literary Quicksand