About True Stories from an Unreliable Eyewitness
• Hardcover: 224 pages
• Publisher: Harper Wave (April 3, 2018)
A fiercely intelligent, hilarious, and deeply feminist collection of interrelated personal stories from Academy, Emmy, and Golden Globe Award–winning actress and director Christine Lahti.
For decades, actress and director Christine Lahti has captivated the hearts and minds of her audience through iconic roles in Chicago Hope, Running on Empty, Housekeeping, And Justice for All, Swing Shift, Law & Order: Special Victims Unit, God of Carnage, and The Blacklist. Now, in True Stories from an Unreliable Eyewitness, this acclaimed performer channels her creativity inward to share her own story for the first time on the page.
In this poignant essay collection, Lahti focuses on three major periods of her life: her childhood, her early journey as an actress and activist, and the realities of her life as a middle-aged woman in Hollywood today. Lahti's comical and self-deprecating voice shines through in stories such as "Kidnapped" and "Shit Happens," and she takes a boldly honest look at the painful fissures in her family in pieces such as "Mama Mia" and "Running on Empty." Taken together, the collection illuminates watershed moments in Lahti's life, revealing her struggle to maintain integrity, fight her need for perfection, and remain true to her feminist inclinations.
Lahti's wisdom and candid insights are reminiscent of Nora Ephron's I Feel Bad About My Neck and Joan Rivers's I Hate Everyone—and yet her experiences are not exclusive to one generation. The soul of her writing can be seen as a spiritual mother to feminist actresses and comedic voices whose works are inspiring today's young women, including Amy Schumer, Lena Dunham, Amy Poehler, Caitlin Moran, and Jenny Lawson. Her stories reveal a stumbling journey toward agency and empowerment as a woman—a journey that's still very much a work in progress.
True Stories from an Unreliable Eyewitness is about the power of storytelling to affirm and reframe the bedrock of who we are, revealing that we're all unreliable eyewitnesses when it comes to our deeply personal memories. Told in a wildly fresh, unique voice, and with the unshakable ability to laugh at herself time and again, this is Christine Lahti's best performance yet.

Purchase Links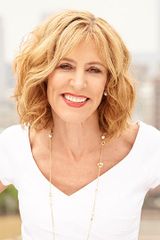 About Christine Lahti
Christine Lahti is an acclaimed director and stage, television, and film actress with a career that spans over forty years. She won an Oscar for her short film, Lieberman in Love; an Oscar nomination for Swing Shift; a Golden Globe Award for No Place Like Home; an Emmy Award and a Golden Globe Award for Chicago Hope; and an Obie Award for Little Murders. On Broadway, she starred in God of Carnage and The Heidi Chronicles, among many others. Her films include Running on Empty and Housekeeping. Her television shows include Jack and Bobby, Law & Order SVU, and The Blacklist. She lives in New York City and Los Angeles.
Follow Christine on Twitter.
Tour Stops
Tuesday, April 10th: Eliot's Eats
Wednesday, April 11th: Kahakai Kitchen
Thursday, April 12th: Openly Bookish
Monday, April 16th: Bibliotica
Tuesday, April 17th: Wall-to-Wall Books
Thursday, April 19th: Literary Quicksand
Friday, April 20th: 5 Minutes For Books
Monday, April 23rd: Patricia's Wisdom
Tuesday, April 24th: Instagram: @the_need_to_read
Wednesday, April 25th: Wining Wife
Thursday, April 26th: Thoughts From a Highly Caffeinated Mind
Friday, April 27th: Harry Times…all jacked up