About Look for Her
• Paperback: 304 pages
• Publisher: William Morrow Paperbacks (February 13, 2018)
Everyone loves a beautiful missing girl…
"Look For Her ratchets up the tension while also offering moments of sheer grace."-Riley Sager, bestselling author of Final Girls
"Beautifully written with an expertly twisty, surprising story, this is a must-read!"
— Chevy Stevens, New York Times bestselling author of Never Let You Go
Lilling might seem like an idyllic English village, but it's home to a dark history. In 1976, a teenage girl named Annalise Wood disappeared, and though her body was later discovered, the culprit was never found. Decades later, Annalise maintains a perverse kind of celebrity, and is still the focus of grief, speculation, and for one young woman, a disturbing, escalating jealousy.
When DNA linked to the Annalise murder unexpectedly surfaces, cold case detective Morris Keene and his former partner, Chloe Frohmann, hope to finally bring closure to this traumatized community. But the new evidence instead undoes the case's only certainty: the buried body that had long ago been confidently identified as Annalise may be someone else entirely, and instead of answers, the investigators face only new puzzles.
Whose body was unearthed all those years ago, and what happened to the real Annalise? Is someone interfering with the investigation? And is there a link to a present-day drowning with eerie connections? With piercing insight and shocking twists, Emily Winslow explores the dark side of sensationalized crime in this haunting psychological thriller.
Search the book's hashtag: #lookforher.

Purchase Links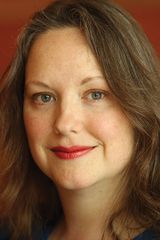 About Emily Winslow
Emily Winslow is an American living in Cambridge, England. She is the author of the novels The Whole World, The Start Of Everything, and The Red House.
Find out more about Emily at her website, and connect with her on Facebook.
Tour Stops
Wednesday, February 14th: No More Grumpy Bookseller
Thursday, February 15th: Novel Gossip
Friday, February 16th: Instagram: @jackiereadsbooks
Tuesday, February 20th: Tina Says…
Wednesday, February 21st: Staircase Wit
Wednesday, February 21st: Instagram: @hollyslittlebookreviews
Thursday, February 22nd: Jessicamap Reviews
Sunday, February 25th: Thoughts On This 'n That
Monday, February 26th: The Ludic Reader
Tuesday, February 27th: Rockin' and Reviewing
Wednesday, February 28th: Instagram: @Novelmombooks
Tuesday, March 6th: Into the Hall of Books
Thursday, March 8th: Dreams, Etc.