About The Leisure Seeker
• Paperback: 288 pages
• Publisher: William Morrow Paperbacks; Media Tie In, Reprint edition (December 26, 2017)
Now a major motion picture starring Oscar award-winners Helen Mirren and Donald Sutherland, coming January 2018 from Sony Pictures Classics
Official Selection
Toronto Film Festival
Venice Film Festival
"The Leisure Seeker is pretty much like life itself: joyous, painful, moving, tragic, mysterious, and not to be missed."—Booklist, starred review
The Robinas have shared a wonderful life for more than sixty years. Now in their eighties, Ella suffers from cancer and John has Alzheimer's. Yearning for one last adventure, the self-proclaimed "down-on-their-luck geezers" kidnap themselves from the adult children and doctors who seem to run their lives and steal away from their home in suburban Detroit on a forbidden vacation of rediscovery.
With Ella as his vigilant copilot, John steers their '78 Leisure Seeker RV along the forgotten roads of Route 66 toward Disneyland in search of a past they're having a damned hard time remembering. Yet Ella is determined to prove that, when it comes to life, you can go back for seconds—even when everyone says you can't.

Purchase Links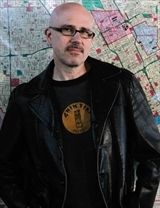 About Michael Zadoorian
Michael Zadoorian is the author of Second Hand and The Lost Tiki Palaces of Detroit: Stories.
Find out more about Michael at his website, and connect with him on Twitter and the Facebook page for The Leisure Seeker.
Tour Stops
Tuesday, January 2nd: BookNAround
Thursday, January 11th: Girl Who Reads
TBD: A Bookworm's World
TBD: Jathan & Heather
TBD: A Chick Who Reads
TBD: StephTheBookworm
TBD: Tina Says…
TBD: she treads softly
TBD: Man of La Book
TBD: Writing and Running Through Life
TBD: Stranded in Chaos
TBD: Back Porchervations
TBD: Broken Teepee
TBD: alyssarossblog
TBD: Real Life Reading