About Goodnight From London
• Paperback: 400 pages
• Publisher: William Morrow Paperbacks (May 2, 2017)
From USA Today bestselling author Jennifer Robson—author of Moonlight Over Paris and Somewhere in France—comes a lush historical novel that tells the fascinating story of Ruby Sutton, an ambitious American journalist who moves to London in 1940 to report on the Second World War, and to start a new life an ocean away from her past.
In the summer of 1940, ambitious young American journalist Ruby Sutton gets her big break: the chance to report on the European war as a staff writer for Picture Weekly newsmagazine in London. She jumps at the chance, for it's an opportunity not only to prove herself, but also to start fresh in a city and country that know nothing of her humble origins. But life in besieged Britain tests Ruby in ways she never imagined.

Purchase Links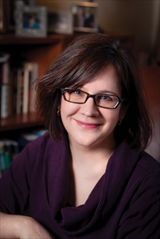 About Jennifer Robson
Jennifer Robson is the USA Today and #1 Toronto Globe & Mail bestselling author of Somewhere in France, After the War is Over and Moonlight Over Paris. She holds a doctorate from Saint Antony's College, University of Oxford. She lives in Toronto with her husband and young children.
Find out more about Jennifer at her website, and connect with her on Facebook and Twitter.
Tour Stops
Tuesday, May 2nd: Girl Who Reads
Wednesday, May 3rd: Life By Kristen
Thursday, May 4th: Just Commonly
Friday, May 5th: Kritters Ramblings
Monday, May 8th: Reading Reality
Tuesday, May 9th: Book by Book
Monday, May 15th: Savvy Verse & Wit
Monday, May 22nd: Tina Says…
Tuesday, May 23rd: A Bookish Affair
Friday, May 26th: View from the Birdhouse
Friday, June 2nd: Diary of an Eccentric