About Yesternight
• Paperback: 400 pages
• Publisher: William Morrow Paperbacks (October 4, 2016)
From the author of The Uninvited comes a haunting historical novel with a compelling mystery at its core.  A young child psychologist steps off a train, her destination a foggy seaside town. There, she begins a journey causing her to question everything she believes about life, death, memories, and reincarnation.
In 1925, Alice Lind steps off a train in the rain-soaked coastal hamlet of Gordon Bay, Oregon. There, she expects to do nothing more difficult than administer IQ tests to a group of rural schoolchildren. A trained psychologist, Alice believes mysteries of the mind can be unlocked scientifically, but now her views are about to be challenged by one curious child.
Seven-year-old Janie O'Daire is a mathematical genius, which is surprising. But what is disturbing are the stories she tells: that her name was once Violet, she grew up in Kansas decades earlier, and she drowned at age nineteen. Alice delves into these stories, at first believing they're no more than the product of the girl's vast imagination.  But, slowly, Alice comes to the realization that Janie might indeed be telling a strange truth.
Alice knows the investigation may endanger her already shaky professional reputation, and as a woman in a field dominated by men she has no room for mistakes. But she is unprepared for the ways it will illuminate terrifying mysteries within her own past, and in the process, irrevocably change her life.

Purchase Links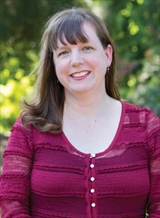 About Cat Winters
Cat Winters's debut novel, In the Shadow of Blackbirds, was released to widespread critical acclaim. The novel has been named a finalist for the 2014 Morris Award, a School Library Journal Best Book of 2013, and a Booklist 2013 Top 10 Horror Fiction for Youth. Winters lives in Portland, Oregon, with her husband and two children.
Find out more about Cat at her website, and follow her on tumblr, Pinterest, Instagram, Facebook, and Twitter.
Tour Stops
Tuesday, October 4th: Wall-to-Wall Books
Wednesday, October 5th: Satisfaction for Insatiable Readers
Thursday, October 6th: 5 Minutes For Books
Friday, October 7th: A Chick Who Reads
Friday, October 7th: Peeking Between the Pages
Monday, October 10th: Kahakai Kitchen
Tuesday, October 11th: No More Grumpy Bookseller
Wednesday, October 12th: A Literary Vacation
Thursday, October 13th: Hopelessly Devoted Bibliophile
Monday, October 17th: Broken Teepee
Tuesday, October 18th: Ms. Nose in a Book