About Be Frank With Me
• Paperback: 320 pages
• Publisher: William Morrow Paperbacks (September 6, 2016)
A sparkling talent makes her fiction debut with this infectious novel that combines the charming pluck of Eloise, the poignant psychological quirks of The Curious Incident of the Dog in the Night-Time and the page-turning spirit of Where'd You Go, Bernadette.
Reclusive literary legend M. M. "Mimi" Banning has been holed up in her Bel Air mansion for years. But after falling prey to a Bernie Madoff-style ponzi scheme, she's flat broke. Now Mimi must write a new book for the first time in decades, and to ensure the timely delivery of her manuscript, her New York publisher sends an assistant to monitor her progress. The prickly Mimi reluctantly complies—with a few stipulations: No Ivy-Leaguers or English majors. Must drive, cook, tidy. Computer whiz. Good with kids. Quiet, discreet, sane.
When Alice Whitley arrives at the Banning mansion, she's put to work right away—as a full-time companion to Frank, the writer's eccentric nine-year-old, a boy with the wit of Noel Coward, the wardrobe of a 1930s movie star, and very little in common with his fellow fourth-graders.
As she slowly gets to know Frank, Alice becomes consumed with finding out who Frank's father is, how his gorgeous "piano teacher and itinerant male role model" Xander fits into the Banning family equation—and whether Mimi will ever finish that book.
Full of heart and countless "only-in-Hollywood" moments, Be Frank with Me is a captivating and unconventional story of an unusual mother and son, and the intrepid young woman who finds herself irresistibly pulled into their unforgettable world.

Purchase Links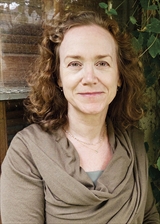 About Julia Claiborne Johnson
Julia Claiborne Johnson worked at Mademoiselle and Glamour magazines before marrying and moving to Los Angeles, where she lives with her comedy-writer husband and their two children.
Connect with Julia on Facebook and Twitter.
Tour Stops
Tuesday, September 6th: Books on the Table
Wednesday, September 7th: 5 Minutes For Books
Thursday, September 8th: Buried Under Books
Friday, September 9th: Satisfaction for Insatiable Readers
Tuesday, September 13th: A Bookish Affair
Wednesday, September 14th: Cerebral Girl in a Redneck World
Thursday, September 15th: Ms. Nose in a Book
Friday, September 16th: M. Denise Costello
Monday, September 19th: I Brought a Book
Tuesday, September 20th: Thoughts On This 'n That
Wednesday, September 21st: Back Porchervations
Thursday, September 22nd: A Soccer Mom's Book Blog
Friday, September 23rd: A Chick Who Reads
Monday, September 26th: The Well-Read Redhead
Wednesday, September 28th: Reading is My Super Power
Thursday, September 29th: Art Books Coffee
Friday, September 30th: Sweet Southern Home