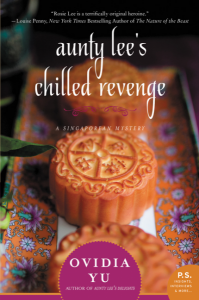 About Aunty Lee's Chilled Revenge
• Paperback: 368 pages
• Publisher: William Morrow Paperbacks (April 5, 2016)
Rosie "Aunty" Lee—feisty widow, amateur sleuth and proprietor of Singapore's best-loved home cooking restaurant—is back in another delectable, witty mystery set in Singapore.
Slightly hobbled by a twisted ankle, crime-solving restaurateur Aunty Lee begrudgingly agrees to take a rest from running her famous café, Aunty Lee's Delights, and turns over operations to her friend and new business partner Cherril.
The café serves as a meeting place for an animal rescue society that Cherril once supported. They were forced to dissolve three years earlier after a British expat killed the puppy she'd adopted, sparking a firestorm of scandal. The expat, Allison Fitzgerald, left Singapore in disgrace, but has returned with an ax to grind (and a lawsuit). At the café one afternoon, Cherril receives word that Allison has been found dead in her hotel—and foul play is suspected. When a veterinarian, who was also involved in the scandal, is found dead, suspicion soon falls on the animal activists. What started with an internet witch hunt has ended in murder—and in a tightly knit, law-and-order society like Singapore, everyone is on edge.
Before anyone else gets hurt—and to save her business—Aunty Lee must get to the bottom of what really happened three years earlier, and figure out who is to be trusted in this tangled web of scandal and lies.

Purchase Links
HarperCollins | Amazon | Barnes & Noble
About Ovidia Yu
Ovidia Yu is one of Singapore's best-known and most acclaimed writers. She has had more than thirty plays produced and is also the author of a number of mysteries. She received a Fulbright Fellowship to the University of Iowa's International Writers Program and has been a writing fellow at the National University of Singapore.
Connect with her through Facebook or follow her on Twitter.
Ovidia's Tour Stops
Tuesday, April 5th: FictionZeal
Wednesday, April 6th: All Roads Lead to the Kitchen
Friday, April 8th: In Bed with Books
Monday, April 11th: Hopelessly Devoted Bibliophile
Thursday, April 14th: Bibliotica
Friday, April 15, 2016: Reading to Distraction
Monday, April 18th: Ms. Nose in a Book
Tuesday, April 19th: No More Grumpy Bookseller
Wednesday, April 20th: Reading Reality
Thursday, April 21st: Kahakai Kitchen
Friday, April 22nd: A Chick Who Reads
Thursday, May 12th: Lavish Bookshelf