About The Ramblers
• Hardcover: 400 pages
• Publisher: William Morrow (February 9, 2016)
For fans of J. Courtney Sullivan, Meg Wolitzer, Claire Messud, and Emma Straub, a gorgeous and absorbing novel of a trio of confused souls struggling to find themselves and the way forward in their lives, set against the spectacular backdrop of contemporary New York City.
Set in the most magical parts of Manhattan—the Upper West Side, Central Park, Greenwich Village—The Ramblers explores the lives of three lost souls, bound together by friendship and family. During the course of one fateful Thanksgiving week, a time when emotions run high and being with family can be a mixed blessing, Rowley's sharply defined characters explore the moments when decisions are deliberately made, choices accepted, and pasts reconciled.
Clio Marsh, whose bird-watching walks through Central Park are mentioned in New York Magazine, is taking her first tentative steps towards a relationship while also looking back to the secrets of her broken childhood. Her best friend, Smith Anderson, the seemingly-perfect daughter of one of New York's wealthiest families, organizes the lives of others as her own has fallen apart. And Tate Pennington has returned to the city, heartbroken but determined to move ahead with his artistic dreams.
Rambling through the emotional chaos of their lives, this trio learns to let go of the past, to make room for the future and the uncertainty and promise that it holds. The Ramblers is a love letter to New York City—an accomplished, sumptuous novel about fate, loss, hope, birds, friendship, love, the wonders of the natural world and the mysteries of the human spirit.

Purchase Links
HarperCollins | Amazon | Barnes & Noble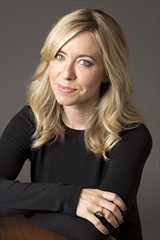 About Aidan Donnelly Rowley
Born and raised in New York City, Aidan Donnelley Rowley is a graduate of Yale University and Columbia Law School, but her dream (long unconscious) was always to write. She is the author of a novel, Life After Yes; blogs at IvyLeagueInsecurities.com; contributes to The Huffington Post; and is the founder and curator of the popular Happier Hours Literary Salons. The middle of five sisters, she lives in New York with her husband and three young daughters.
Find Aidan on Twitter, Facebook, and Instagram.
Aidan's Tour Stops
Tuesday, February 9th: BookNAround
Wednesday, February 10th: I'd Rather Be At The Beach
Thursday, February 11th: A Bookish Way of Life
Tuesday, February 16th: West Metro Mommy
Tuesday, February 16th: Bibliotica
Thursday, February 18th: Read. Write. Repeat.
Monday, February 22nd: Books and Bindings
Tuesday, February 23rd: Book Journey
Thursday, February 25th: Thoughts On This 'n That
Saturday, February 27th: She's Got Books On Her Mind
Sunday, February 28th: Curling Up by the Fire
Monday, February 29th: Write Meg