About One Step Too Far
• Hardcover: 320 pages
• Publisher: William Morrow (January 27, 2015)
The #1 international bestseller reminiscent of After I'm Gone, Sister, Before I Go to Sleep, and The Silent Wife—an intricately plotted, thoroughly addictive thriller that introduces a major new voice in suspense fiction—a mesmerizing and powerful novel that will keep you guessing to the very end.
No one has ever guessed Emily's secret.
Will you?
A happy marriage. A beautiful family. A lovely home. So what makes Emily Coleman get up one morning and walk right out of her life—to start again as someone new?
Now, Emily has become Cat, working at a hip advertising agency in London and living on the edge with her inseparable new friend, Angel. Cat's buried any trace of her old self so well, no one knows how to find her. But she can't bury the past—or her own memories.
And soon, she'll have to face the truth of what she's done—a shocking revelation that may push her one step too far. . . .
"Tina Seskis, if this novel is anything to go by, is one of the world's leading experts at pulling the wool over readers' eyes until the very end." —Sophie Hannah, New York Times bestselling author of The Monogram Murders and The Carrier

Purchase Links
Amazon | IndieBound | Barnes & Noble
About Tina Seskis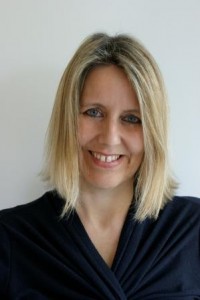 Tina Seskis grew up in Hampshire, England, and after graduating from the University of Bath spent more than twenty years working in marketing and advertising. One Step Too Far is her debut novel, and was first published independently in the UK, where it shot to the #1 spot on the bestseller list. Her second novel is forthcoming. She lives in North London with her husband and son.
Find out more about Tina at her website, and connect with her on Facebook and Twitter.
Tina's Tour Stops
Tuesday, January 27th: Bibliotica
Wednesday, January 28th: Kahakai Kitchen
Thursday, January 29th: Fuelled by Fiction
Monday, February 2nd: BoundbyWords
Tuesday, February 3rd: A Bookworm's World
Wednesday, February 4th: A Bookish Way of Life
Thursday, February 5th: Svetlana's Reads and Views
Friday, February 6th: Books in the Burbs
Monday, February 9th: The Well-Read Redhead
Tuesday, February 10th: Vox Libris