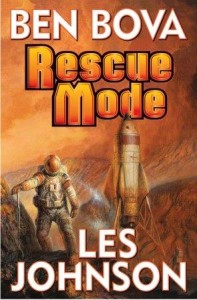 About Rescue Mode
• Hardcover: 432 pages
• Publisher: Baen (June 3, 2014)
Gritty and scientifically accurate science fiction adventure from New York Times best-selling author Ben Bova and space scientist Les Johnson.
The first human mission to Mars meets with near-disaster when a meteoroid strikes the spacecraft, almost destroying it. The ship is too far from Earth to simply turn around and return home. The eight-person crew must ride their crippled ship to Mars while they desperately struggle to survive.
On Earth, powerful political forces that oppose human spaceflight try to use the accident as proof that sending humans into space is too dangerous to continue. The whole human space flight program hangs in the balance. And if the astronauts can't nurse their ship to Mars and back, the voyagers will become either the first Martian colonists—or the first humans to perish on another planet.

Purchase Links
Amazon | IndieBound | Barnes & Noble
About Les Johnson
Les Johnson is a scientist, an author, and a NASA technologist. He is an author of several popular science books about space exploration, including Living Off the Land in Space, Sky Alert: When Satellites Fail, and Harvesting Space for a Greener Earth; and three science fiction books Back to the Moon, Going Interstellar, and Rescue Mode. You might have seen him on NatGeo or The Science Channel where he has appeared in numerous programs on space and science.
In his day job, he serves as the Senior Technical Advisor for NASA's Advanced Concepts Office at the Marshall Space Flight Center in Huntsville, Alabama. Les is the NASA Co-Investigator (Co-I) for the European Union's Deploytech Solar Sail demonstration mission planned for launch in 2015. He was the NASA Co-I for the JAXA T-Rex Space Tether Experiment and PI of NASA's ProSEDS Experiment. During his career at NASA, he served as the Manager for the Space Science Programs and Projects Office, the In-Space Propulsion Technology Program, and the Interstellar Propulsion Research Project. He thrice received NASA's Exceptional Achievement Medal and has 3 patents.
Les is a frequent contributor to the Journal of the British Interplanetary Society and a member of the National Space Society, the World Future Society, and MENSA. He serves on the Editorial Advisory Board for the British Interplanetary Society and is Chairman of the Tennessee Valley Interstellar Workshop. Les was the featured "interstellar explorer" in the January 2013 issue of National Geographic magazine and a technical consultant for the movie, "Europa Report."
Les' Tour Stops
Monday, September 8th: The Steadfast Reader
Tuesday, September 9th: Under My Apple Tree
Wednesday, September 10th: The Year in Books
Monday, September 15th: D. L. Morrese
Tuesday, September 16th: Patricia's Wisdom
Wednesday, September 17th: No More Grumpy Bookseller
Monday, September 22nd: Bibliophilia, Please
Tuesday, September 23rd: she treads softly
Wednesday, September 24th: Jorie Loves a Story
Thursday, September 25th: Dreaming About Other Worlds
Friday, September 26th: Reading Reality
Monday, September 29th: Giraffe Days
Tuesday, September 30th: Layers of Thought