About Elizabeth is Missing
• Hardcover: 320 pages
• Publisher: Harper (June 10, 2014)
In this darkly riveting debut novel, a sophisticated psychological mystery, one woman will stop at nothing to find her best friend, who seems to have gone missing. . . .
Despite Maud's growing anxiety about Elizabeth's welfare, no one takes her concerns seriously—not her frustrated daughter, not her caretakers, not the police, and especially not Elizabeth's mercurial son—because Maud suffers from dementia. But even as her memory disintegrates and she becomes increasingly dependent on the trail of handwritten notes she leaves for herself in her pockets and around her house, Maud cannot forget her best friend. Armed with only an overwhelming feeling that Elizabeth needs her help, Maud resolves to discover the truth—no matter what it takes.
As this singular obsession forms a cornerstone of Maud's rapidly dissolving present, the clues she uncovers lead her deeper into her past, to another unsolved disappearance: that of her sister, Sukey, who vanished shortly after World War II. As vivid memories of a tragedy that occurred more than fifty years ago come flooding back, Maud's search for Elizabeth develops a frantic momentum. Whom can she trust? Can she trust herself?
A page-turning novel of suspense, Elizabeth Is Missing also hauntingly reminds us that we are all at the mercy of our memory. Always compelling, often poignant, and at times even blackly witty, this is an absolutely unforgettable novel.

Purchase Links
Amazon | IndieBound | Barnes & Noble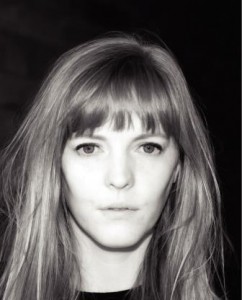 About Emma Healey
Emma Healey holds a degree in bookbinding and an MA in creative writing. Elizabeth Is Missing is her first novel. She lives in the UK.
Find out more about Emma at her website and connect with her on Twitter and Facebook.
Emma's Tour Stops
Tuesday, June 10th: Anita Loves Books
Thursday, June 12th: Doing Dewey
Monday, June 16th: No More Grumpy Bookseller
Tuesday, June 17th: Always With a Book
Wednesday, June 18th: Peeking Between the Pages
Thursday, June 19th: From the TBR Pile
Monday, June 23rd: Kahakai Kitchen
Tuesday, June 24th: A Bookworm's World
Wednesday, June 25th: Ace and Hoser Blook
Thursday, June 26th: BoundbyWords
Monday, June 30th: Book-alicious Mama
Tuesday, July 1st: Time 2 Read
Monday, July 7th: Tales of a Book Addict
Tuesday, July 8th: Mockingbird Hill Cottage
Thursday, July 10th: 5 Minutes For Books
Friday, July 11th: Tina's Book Reviews
TBD: Literally Jen