About The Sea Garden
• Hardcover: 320 pages
• Publisher: Harper (6/24/2014)
Three stories rich in drama and steeped in atmosphere are linked by a single mystery in this spellbinding novel of love and loss in the fog of war.
The Sea Garden
On the lush Mediterranean island of Porquerolles off the French coast, Ellie Brooke, an award-winning British landscape designer, has been hired to restore a memorial garden. Unsettled by its haunted air and the bitterness of the garden's owner, an elderly woman who seems intent on undermining her, Ellie finds that her only ally on the island is an elusive war historian. . . .
The Lavender Field
Near the end of World War II, Marthe Lincel, a young blind woman newly apprenticed at a perfume factory in Nazi-occupied Provence, finds herself at the center of a Resistance cell. When tragedy strikes, she faces the most difficult choice of her life and discovers a breathtaking courage she never expected. . . .
A Shadow Life
Iris Nightingale, a junior British intelligence officer in wartime London, falls for a French agent. But after a secret landing in Provence results in terrible Nazi reprisals, he vanishes. When France is liberated, Iris is determined to uncover the truth. Was he the man he claimed to be?
Praise for The Sea Garden
"Deborah Lawrenson's writing is delicious. Her stories are atmospheric, intoxicating and impossible not to get lost in." –Sarah Jio, author of Goodnight June and Blackberry Winter
"The Sea Garden weaves a double spell: Lawrenson steeps her story of the invisible heroes of the French Resistance crossing borders-and here, crossing time-deep in the eerie beauty of the South of France. The result is a marvelous strange fruit: think Graham Greene with a dash of Poe." –Sarah Blake, author of The Postmistress
"Spellbinding…sumptuous." –Publishers Weekly

Purchase Links
Amazon | IndieBound | Barnes & Noble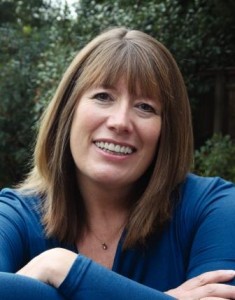 About Deborah Lawrenson
Deborah Lawrenson studied English at Cambridge University and worked as a journalist in London. She is married with a daughter and lives in Kent, England. She and her family spend as much time as possible at a crumbling hamlet in Provence, France, the setting for her novel The Lantern and inspiration for The Sea Garden.  Find out more about Deborah at her website, read more at her blog, and connect with her on Facebook.
Deborah's Tour Stops
Thursday, June 26th: Doing Dewey
Friday, June 27th: 5 Minutes For Books
Monday, June 30th: No More Grumpy Bookseller
Thursday, July 3rd: Kahakai Kitchen
Monday, July 7th: Book Dilettante
Friday, July 11th: Olduvai's Reads
Monday, July 14th: Luxury Reading
Tuesday, July 15th: Savvy Verse & Wit
Wednesday, July 16th: Svetlana's Reads and Views
Thursday, July 17th: Stitch Read Cook
Friday, July 18th: Diary of an Eccentric
Monday, July 21st: BookNAround
Tuesday, July 22nd: Bibliophiliac
Wednesday, July 23rd: Kritters Ramblings
Thursday, July 31st: Ageless Pages Reviews
TBD: The Adventures of an Intrepid Reader
TBD: The Written World