About A Replacement Life
Hardcover: 336 pages
Publisher: Harper (June 3, 2014)
A singularly talented writer makes his literary debut with this provocative, soulful, and sometimes hilarious story of a failed journalist asked to do the unthinkable: forge Holocaust-restitution claims for old Russian Jews in Brooklyn, New York.
Yevgeny Gelman, grandfather of Slava Gelman, "didn't suffer in the exact way" he needs to have suffered to qualify for the reparations the German government has been paying out to Holocaust survivors. But suffer he has—as a Jew in the war, as a second-class citizen in the USSR, as an immigrant in America. So? Isn't his grandson a "writer"?
High-minded Slava wants to put all this immigrant-scraping behind him. Only the American dream is not panning out for him: Century, the legendary magazine where he works as a researcher, wants nothing greater from him. Slava wants to be a correct, blameless American—but he wants to be a lionized writer even more.
Slava's turn as the Forger of South Brooklyn teaches him that not every fact is a truth and not every lie a falsehood. It takes more than law-abiding to become an American; it takes the same self-reinvention at which his people excel. Intoxicated and unmoored by his inventions, Slava risks exposure. Cornered, he commits an irrevocable act that finally grants him a sense of home in America—but not before collecting a lasting price from his family.
A Replacement Life is a dark, moving, and beautifully written novel about family, honor, and justice.

Purchase Links
Amazon | IndieBound | Barnes & Noble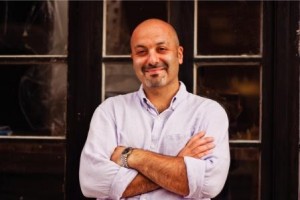 About Boris Fishman
Boris Fishman was born in Belarus and immigrated to the United States at the age of nine. He is the editor of Wild East: Stories from the Last Frontier, and his work has appeared in the New Yorker, the New York Times Magazine, the New Republic, the Wall Street Journal, the London Review of Books, and other publications. He lives in New York City. A Replacement Life is his first novel.
Find out more about Boris at his website, and connect with him on Facebook or Twitter.
Boris' Tour Stops
Tuesday, June 3rd: Jenn's Bookshelves
Wednesday, June 4th: Under a Gray Sky
Thursday, June 5th: Bibliosue
Monday, June 9th: nightlyreading
Tuesday, June 10th: Love at First Book
Wednesday, June 11th: Bibliophiliac
Thursday, June 12th: Conceptual Reception
Monday, June 16th: Svetlana's Reads and Views
Tuesday, June 17th: Book-alicious Mama
Wednesday, June 18th: What She Read …
Thursday, June 19th: Books Speak Volumes
Tuesday, June 24th: Book on the Table
Wednesday, June 25th: The Year in Books
Thursday, June 26th: Must Read Faster