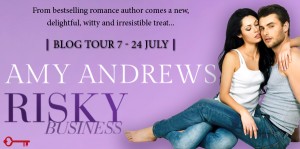 About Risky Business
• Publisher: Escape Publishing
From bestselling author Amy Andrews comes a new single-title romance about putting pleasure before business, and the risks we all need to take when we find someone worth risking everything for.
Samantha Evans's life is going to hell. Not only has she rage-quit her beloved, high-powered job, but she is suddenly afflicted by hormones, free time, and an unavoidable, unignorable, undeniably gorgeous irritant in the form of Nick Hawke, her extreme sports star neighbour, who has come home to take over the reins of his grandmother's second-hand bookshop. Sam needs something to keep her from begging for her old job back until she's good and sure her boss understands how wrong he was, and taking a low-risk, low-stress job helping Nick at the bookstore might be just the thing.
After all, it's not like Nick is the right guy to help her with her hormones. He'll just be fun to look at while she searches for the one. 
Nick has six months to get over an injury before Everest and a big, fat contract beckon. That means no sports, no danger and, above all else, no risks. It means playing it safe. And Nick Hawke doesn't do safe. So he's going to need something to stave off the boredom while selling books he doesn't read to people who wouldn't know a carabineer from a crochet hook. What could be safer than hiring a cranky, unemployed accountant to help run the bookstore? Sam is efficient and methodical and messing up her neat, post-it note world could be a fun way to pass the time….
Risky Business mixes the classic romance of Philadelphia Story, the humour and wit of When Harry Met Sally, and a strong, contemporary Australian setting to create a delightful, irresistible, utterly satisfying treat of a novel.

Purchase Links
Amazon US | Amazon AU | Amazon UK | iBooks | Google Play | Kobo Books
About Amy Andrews
Amy Andrews is an award-winning, best-selling Aussie author who has written forty+ contemporary romances in both the traditional and digital markets. To date she's sold 1.6 million books and has been translated into multiple foreign markets.
She works part-time as a PICU nurse, is married to the guy she met when she was sixteen and has two teenagers. She loves her kids, her husband, her dog, cowboys, men in tool belts, cowboys in tool belts and happily ever after's. Please, DO NOT mess with the HEA! Also good books, fab food, great wine and frequent travel – preferably all four together.
She lives on acreage on the outskirts of Brisbane with a gorgeous mountain view but secretly wishes it was the hillsides of Tuscany.
Visit Amy at her website and connect with her on Facebook.
Amy's Tour Stops
Monday, July 7th: A Buckeye Girl Reads – guest post
Tuesday, July 8th: The Romance Dish – Q&A
Thursday, July 10th: Romancing Rakes for the Love of Romance – spotlight
Saturday, July 12th: Romancing the Book
Monday, July 14th: Harlie's Books
Wednesday, July 16th: Babbling About Books, and More! – guest post
Thursday, July 17th: The Reading Date – guest post
Tuesday, July 22nd: Girl meets Books – guest post
Monday, July 21st: Cruising Susan Reviews
Monday, August 11th: Reading in Black & White – guest post