About When the Cypress Whispers
• Hardcover: 368 pages
• Publisher: Harper (April 1, 2014)
On a beautiful Greek island, myths, magic, and a colorful cast of mortals come together in a lushly atmospheric debut celebrating the powerful bond between an American woman and her Greek grandmother.
The daughter of Greek immigrants, Daphne has been brought up to believe in the American dream. When her husband dies in a car accident, leaving her with an inconsolable baby and stacks of bills, she channels everything she has into opening her own Greek restaurant. Now an acclaimed chef and restaurateur, she has also found a second chance at love with her wealthy, handsome fiancé.
Although American by birth, Daphne spent many blissful childhood summers on the magical Greek island of Erikousa, which her grandmother still calls home. At her Yia-yia's side, she discovered her passion for cooking and absorbed the vibrant rhythms of island life, infused with ancient myths and legends lovingly passed down through generations. Somehow her beloved grandmother could always read her deepest thoughts, and despite the miles between them Daphne knows Yia-yia is the one person who can look beyond Daphne's storybook life of seeming perfection to help her stay grounded. With her wedding day fast approaching, Daphne returns to Erikousa and to Yia-yia's embrace.
The past and the present beautifully entwine in this glorious, heartfelt story about a woman trapped between the siren call of old-world traditions and the demands of a modern career and relationship. When Daphne arrives on Erikousa with her daughter, Evie, in tow, nothing is the way she recalls it, and she worries that her elderly Yia-yia is losing her grip on reality. But as the two of them spend time together on the magical island once again, her grandmother opens up to share remarkable memories of her life there—including moving stories of bravery and loyalty in the face of death during World War II—and Daphne remembers why she returned. Yia-yia has more than one lesson to teach her: that security is not the same as love, that her life can be filled with meaning again, and that the most important magic to believe in is the magic of herself.

 Purchase Links
Amazon | IndieBound | Barnes & Noble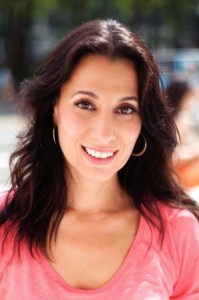 About Yvette Manessis Corporon
Yvette Manessis Corporon is an Emmy Award-winning writer, producer, and author. She is currently a senior producer with the syndicated entertainment news show Extra. In addition to her Emmy Award, Yvette has received a Silurian Award for Excellence in Journalism, and the New York City Comptroller and City Council's Award for Greek Heritage and Culture. She is married to award-winning photojournalist David Corporon. They have two children and live in New York.
Find out more about Yvette at her website, follow her on Twitter, and connect with her on Facebook.
Yvette's Tour Stops
Tuesday, April 1st: Svetlana's Reads and Views
Wednesday, April 2nd: BookNAround
Thursday, April 3rd: A Bookish Affair
Monday, April 7th: Sweet Tea and Lollipops
Tuesday, April 8th: From L.A. to LA
Wednesday, April 9th: A Novel Review
Thursday, April 10th: A Bookish Way of Life
Monday, April 14th: Peeking Between the Pages
Tuesday, April 15th: BoundbyWords
Wednesday, April 16th: Book Dilettante
Wednesday, April 16th: The Infinite Shelf
Thursday, April 17th: A Chick Who Reads
Monday, April 21st: Always With a Book
Tuesday, April 22nd: Doing Dewey
Wednesday, April 23rd: Kahakai Kitchen
Thursday, April 24th: Broken Teepee
Tuesday, April 29th: Dwell in Possibility
Wednesday, April 30th: Savvy Verse & Wit