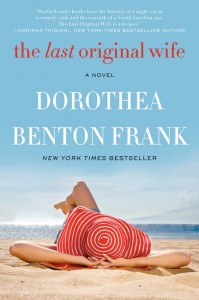 About The Last Original Wife
• Paperback: 368 pages
• Publisher: William Morrow Paperbacks; Reprint edition (April 1, 2014)
Experience the sultry Southern atmosphere of Atlanta and the magic of the Carolina Lowcountry in this funny and poignant tale of one audacious woman's quest to find the love she deserves
Leslie Anne Greene Carter is The Last Original Wife among her husband Wesley's wildly successful Atlanta social set. But if losing her friends to tanned and toned young Barbie brides isn't painful enough, a series of setbacks shake Les's world and push her to the edge. She's had enough of playing the good wife to a husband who thinks he's doing her a favor by keeping her around. She's going to take some time for herself—in the familiar comforts and stunning beauty of Charleston, her beloved hometown. And she's going to reclaim the carefree girl who spent lazy summers with her first love on Sullivans Island. Daring to listen to her inner voice, she will realize what she wants . . . and find the life of which she's always dreamed.
The Last Original Wife is an intoxicating tale of family, friendship, self-discovery, and love that is as salty as a Lowcountry breeze and as invigorating as a dip in Carolina waters on a sizzling summer day.

Purchase Links
Amazon | IndieBound | Barnes & Noble
About Dorothea Benton Frank
New York Times bestselling author Dorothea Benton Frank was born and raised on Sullivans Island, South Carolina. She is the author of many New York Times bestselling novels, including Lowcountry Summer and Return to Sullivans Island. She resides in the New York area with her husband.
Find her on the web at www.dotfrank.com, or like her on Facebook.
Dorothea's Tour Stops
Wednesday, April 2nd: Kritters Ramblings
Thursday, April 3rd: cupcake's book cupboard
Tuesday, April 8th: Sara's Organized Chaos
Wednesday, April 9th: 5 Minutes For Books
Thursday, April 10th: All Things Girl
Monday, April 14th: Always With a Book
Wednesday, April 16th: From L.A. to LA
Thursday, April 17th: missris
Monday, April 21st: The Book Bag
Monday, April 28th: No More Grumpy Bookseller
Tuesday, April 29th: Write Meg
Tuesday, April 29th: A Chick Who Reads